Brad Pitt is one of Hollywood's most bankable stars and a heartthrob since the '90s. The actor has consistently been among the most desirable men in entertainment over the years. Throughout his career, Brad Pitt has also been in several relationships, some of them with A-listers as well. After all, nobody could ignore the "Brangelina" wave of the late 2000s and early 2010s. However, while his romance with Angelina Jolie was media gold, it suffered a bitter end, with Jolie and their kids accusing Pitt of abuse.
In recent years, he has been more private with his love life. Nonetheless, for the most part, the press is always aware of who he's romantically linked with. Pitt's public dating history, to our knowledge, goes all the way back to the mid-1980s. Here's a breakdown of the women Brad Pitt has had romantic relationships with since then.
Read More: Brad Pitt Net Worth 2023: What Is The Iconic Film Star Worth?
Sinitta (1986–1988)
Portrait of American-born British Pop musician Sinitta (born Sinitta Malone), circa 1987. (Photo by Tim Roney/Getty Images)
For two years in the late '80s, this British-American singer dated a then-unknown Brad Pitt. Subsequently, over two decades later, Sinitta starred in the reality show I'm a Celebrity…Get Me Out Of Here (series 11). While participating as a contestant on the show, she revealed to her castmates that she had once been romantically involved with Pitt. "I saw him for two years. He was fun, he was young and very sweet. Some ardent fan gave me a slap when I came out of a supermarket over that relationship," Sinitta shared. "It was before he made Thelma & Louise, but even I saw that movie and thought 'Oh my God, what have I done?'"
Robin Givens (1988)
LOS ANGELES – CIRCA 1989: Actors Brad Pitt and Robin Givens pose for a portrait circa 1989 in Los Angeles, California. (Photo by Vinnie Zuffante/Getty Images)
When Brad Pitt played the character Chuck on an episode of Head of the Class (1987), Robin Givens was one of his co-stars. The pair allegedly grew close after Givens separated from Mike Tyson, who was previously her husband. In his memoir, Undisputed Truth (2013), Tyson accused Givens of having an affair with Pitt before they separated. However, Givens addressed the allegation in a 2019 interview with Andy Cohen, completely denying the accusation. 
Jill Schoelen (1988–1989)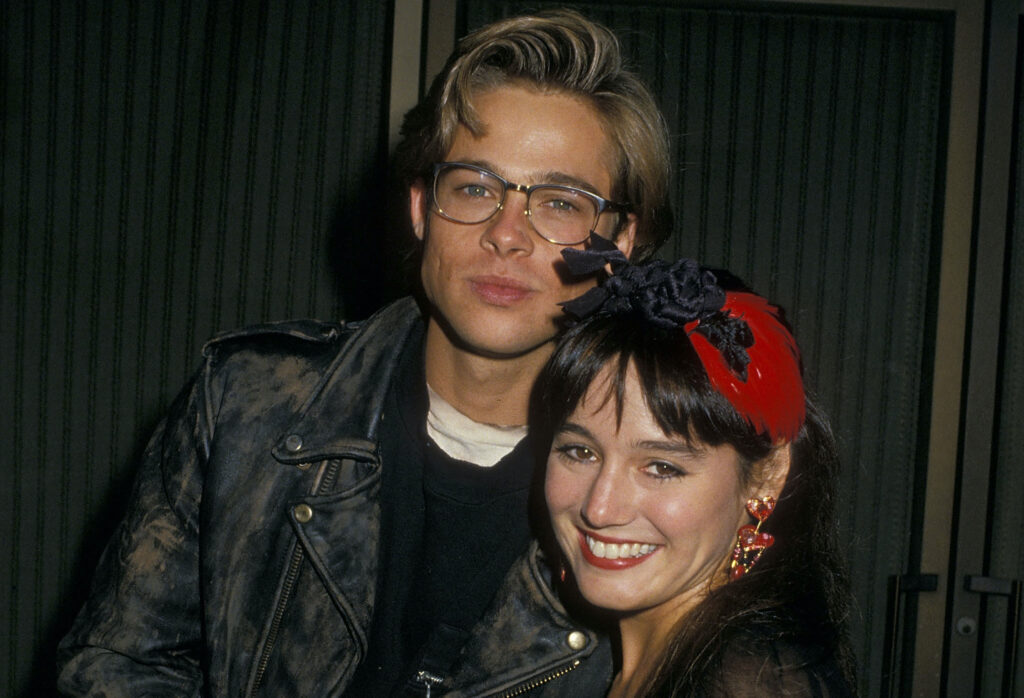 Actor Brad Pitt and actress Jill Schoelen attend the 'Red Heat' Beverly Hills Premiere on June 14, 1988 at the Academy Theatre in Beverly Hills, California. (Photo by Ron Galella, Ltd./Ron Galella Collection via Getty Images)
Another co-star of Pitt's, Jill Schoelen appeared alongside him on the 1989 comedy slasher film Cutting Class. The pair met on the set of the movie the year before and started dating soon after. In a conversation with The Sun, Brad Pitt discussed the end of one of his first high-profile relationships, and how Schoelen called off their engagement. "I got there, went straight to the set where she was filming, and that night, we went out to dinner," Pitt said about visiting Schoelen in Hungary. "She told me that she had fallen in love with the director of the film. I was so shocked I said, 'I'm outta here'."
Read More: Brad Pitt's Best Movie Roles, Ranked
E.G. Daily (1989)
E.G. Daily and Brad Pitt during E.G. Daily Album Listening Party – 1989 in Los Angeles, California, United States. ***Exclusive*** (Photo by Barry King/WireImage)
After his heartbreaking separation from Schoelen, Brad Pitt had a fleeting relationship with now-renowned voice actress, E.G.Daily. Their romance didn't last long, however, and they called it quits soon after. However, the pair remained friends. Daily would subsequently become engaged to professional poker player, Rick Salomon.
Juliette Lewis (1989–1993)
Brad Pitt and Juliette Lewis at the Mann's Chinese Theater in New York City, NY (Photo by Ron Galella/Ron Galella Collection via Getty Images)
Brad Pitt and Juliette Lewis became an item in late 1989, which is one of his longest relationships. The pair met on the set of the crime drama film Too Young To Die. 17 years old at the time, Lewis was a decade younger than Pitt, which evidently raised eyebrows. For a while, however, their relationship went smoothly regardless. The couple lasted about four years before ending things in 1993. At this point, Pitt's relationship with Lewis was his longest one yet.
Gwyneth Paltrow (1995–1997)
Gwyneth Paltrow and Brad Pitt during 1996 Golden Globe Awards at Beverly Hilton Hotel in Beverly Hills, California, United States. (Photo by Ke.Mazur/WireImage)
When Pitt played one of his earliest iconic roles in the movie Se7en, he left the set with more than just critical acclaim. Gwyneth Paltrow, who played Pitt's wife in the movie, almost became his wife in real life as well. During his acceptance speech for Best Supporting Actor at the 1996 Golden Globes, Pitt referred to Paltrow as "the love of my life."  The couple started dating in 1995, and by December 1996, they were engaged to be married. However, in June 1997, they pulled the plug before they were ever able to tie the knot. Despite their romantic separation though, the two have stayed friends in subsequent years.
Jennifer Aniston (1998–2005)
LOS ANGELES – SEPTEMBER 19: Actress Jennifer Aniston and Actor/husband Brad Pitt attend the 56th Annual Primetime Emmy Awards on September 19, 2004 at the Shrine Auditorium, in Los Angeles, California. (Photo by Kevin Winter/Getty Images)
Brad Pitt and Jennifer Aniston had one of Hollywood's most famous relationships of the late 90s and early 2000s. They met in 1998, and a couple of months after, in 1999, Pitt proposed to Aniston. Following their engagement, the couple had a grand ceremony for their wedding on July 29, 2000. Surprisingly, five years later, the pair announced that they'd be separating. "This decision is the result of much thoughtful consideration. We happily remain committed and caring friends with great love and admiration for one another. We ask in advance for your kindness and sensitivity in the coming months," the pair told People.
Read More: Brad Pitt & Jennifer Aniston Had Fans In A Tizzy With SAG Awards Reunion
Angelina Jolie (2005 – 2016)
LOS ANGELES, CA – JANUARY 29: Actors Brad Pitt (L) and Angelina Jolie arrive at the 18th Annual Screen Actors Guild Awards at The Shrine Auditorium on January 29, 2012 in Los Angeles, California. (Photo by Alberto E. Rodriguez/Getty Images)
Widely regarded as one of the greatest celebrity relationships when they were together, Angelina Jolie and Brad Pitt started dating in 2005. They first met in 2003 while shooting for Mr. And Mrs. Smith, and infidelity rumors sparked as a result of their chemistry. However, following Pitt's divorce in 2005 from Aniston, he and Jolie started dating. They dated for seven years while co-parenting their six children before they got engaged in 2012. Two years later, they got married in a private ceremony in France. In a surprising turn of events, Jolie filed for divorce in 2016, just two years after their marriage. Their divorce was finalized in April 2019.
Read More: Joe Rogan Claims An Angelina Jolie Brad Pitt Trial Will Be Worse Than Amber Heard & Johnny Depp
Emily Ratajkowski (2022)
NEW YORK, NEW YORK – JULY 09: Emily Ratajkowski attends the WrapWomen Power Women Breakfast at Tribeca Grill on July 09, 2019 in New York City. (Photo by Dia Dipasupil/Getty Images)
Although it was a very brief thing, Pitt dated model Emily Ratajkowski in 2022. Reportedly, their relationship was not very serious as the actor was "keeping his options open." Ratajkowski had also recently divorced her husband, Sebastian Bear-McClard. Nonetheless, the pair went on a few dates before he moved on to date someone else. 
Ines de Ramon (2022 – Present)
Pitt and Ramon have reportedly been dating since mid-2022. However, they were first spotted together in November of that year while attending a Bono concert in Los Angeles. Ines da Ramon, who was formerly married to Vampire Diaries star Paul Wesley, separated from the actor shortly before she started dating Pitt. The jewelry designer and Brad Pitt seem to be quite enamored with one another. Most recently, a report from PEOPLE said they are "very happy and very together."