Since the 90s, Cam'ron's been an undeniable force in the culture. The early 2000s saw his rise as the de facto leader of The Diplomats while his solo outings made an evident dent on the charts. Although he has since embarked on a journey as an entrepreneur and sports analyst via It Is What It Is with Ma$e, he has left an indelible mark on the rap scene with his prolific discography. With an impressively deep catalog of both albums, EPs, and mixtapes, Come Home With Me stands out as one of his best-selling records, achieving platinum status. 
Read More: Cam'ron Tackles J. Cole & Lil Yachty's "The Secret Recipe" Beat In New Freestyle: Watch
Sales And Achievements Of Come Home With Me
Cam'Ron during Diplomat's "Santana" Video Shoot – October 23, 2004 at Capitale in New York City, New York, United States. (Photo by Johnny Nunez/WireImage)
2002's Come Home With Me marked a significant milestone in Cam'ron's career. After years of grinding, he completed his time with Epic, formally moving over to Jay-Z's Roc-A-Fella Records, where he achieved great commercial success. Come Home With Me is a testament to that. It showcased Cam'ron's evolution as an artist and his ability to merge street narratives with catchy hooks, that introduced the flamboyant and flagrant style of Harlem to the world. With over a million copies sold, its impact extended beyond the core hip-hop fanbase and turned him into a household name. 
Singles And Cultural Impact
The album boasted hit singles like "Oh Boy" featuring Juelz Santana and "Hey Ma" with Juelz Santana, Freekey Zekey, and Toya. These tracks became anthems representing the essence of early 2000s hip-hop that continue to carry weight today. "Oh Boy" topped Billboard's Hot R&B/Hip-Hop Singles & Tracks chart, while "Hey Ma" achieved widespread popularity, becoming a club and radio favorite. Their infectious beats and memorable lyrics contributed significantly to the album's cultural impact.
Comparative Analysis with Other Cam'ron Albums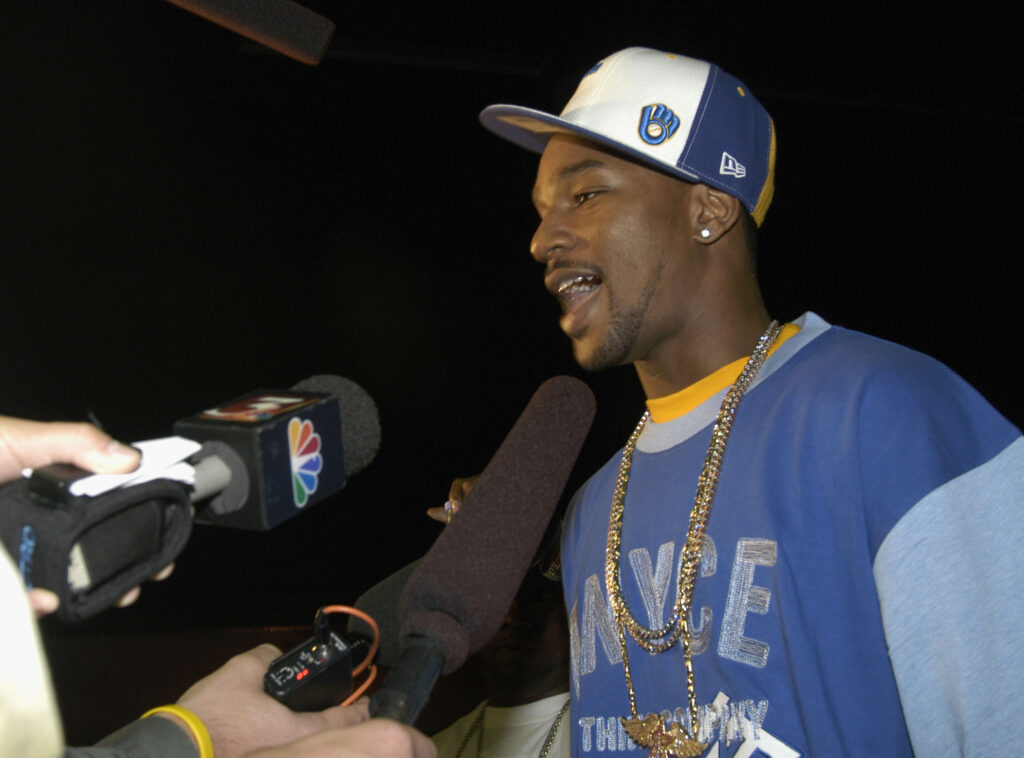 LOUISVILLE – JULY 30: Cam'ron attends Tyson Vs. Williams fight held at Freedom Hall July 30, 2004 in Louisville, Kentucky. (Photo by Brian Tietz/Getty Images)
In contrast to Come Home With Me, Cam'ron's other albums have showcased diverse styles and themes. Purple Haze, released in 2004, is often hailed by fans as a standout project. While it didn't reach the same commercial success as Come Home With Me, it garnered critical acclaim for its innovative production and Cam'ron's lyrical prowess. Additionally, Confessions of Fire, his debut studio album, introduced him as a solo artist under Untertainment and Epic Records. Come Home With Me is undoubtedly the biggest album in Cam's catalog but it's quite clear how projects like Confessions Of The Fire and S.D.E. laid down the foundation for this success.
Read More: Cam'ron's "S.D.E." Turns 23
In Conclusion
Come Home With Me remains a cornerstone in Cam'ron's illustrious career, achieving platinum status and leaving an enduring impact on hip-hop culture. Its chart-topping singles and widespread acclaim solidify its significance among fans and critics alike. However, other albums in Cam'ron's repertoire, such as Purple Haze and Confessions Of Fire, also hold distinct positions in his discography, showcasing his growth and artistry. As Cam'ron continues to influence the rap landscape, his albums stand as testaments to his enduring legacy in the music industry.
In summary, while Come Home With Me stands as Cam'ron's best-selling album with its platinum status and impactful singles, his other albums offer a diverse tapestry of his skills, cementing his position as a hip-hop icon among his loyal fanbase.