White sneakers are considered a must-have in anyone's wardrobe, regardless of personal style. These shoes are versatile and can be worn with a variety of styles, including timeless or modern sneakers, chunky soles, boot-like high-tops, and retro kicks. They are foundational piece that never goes out of fashion and is always functional.
With a plethora of options available, it can be challenging to find the perfect pair of white sneakers. To make it easier, we've researched the best white sneakers on the market, taking into account factors such as design, material, sizing, comfort, and longevity. Our goal is to help you find a pair that will stand the test of time and be a staple in your wardrobe for years to come.
After a thorough evaluation, the Nike Air Force 1 emerged as the all-time classic and the best white sneakers on the market. These shoes meet all of our criteria and have been in style for well over a decade. They are a timeless classic that is unlikely to go out of style anytime soon, considering they have already been around for longer than that. The Nike Air Force 1 is a versatile and comfortable option that will never go out of fashion.
1. Nike Air Force 1
These Air Force 1s are a classic and recognizable white sneakers that launched in 1982 as a basketball shoe. They were the first to feature Nike Air technology, and their popularity has since moved beyond basketball to become a staple in popular culture. The supple white leather upper and Nike swoosh detailing make for a stylish look that pairs well with various outfits. Despite being designed in the 1980s, their comfort still holds up due to the Air unit in the heel. To keep them looking fresh, be sure to keep them clean.
Materials: Leather upper, foam midsole, rubber outsole.
2. Oliver Cabell Low 1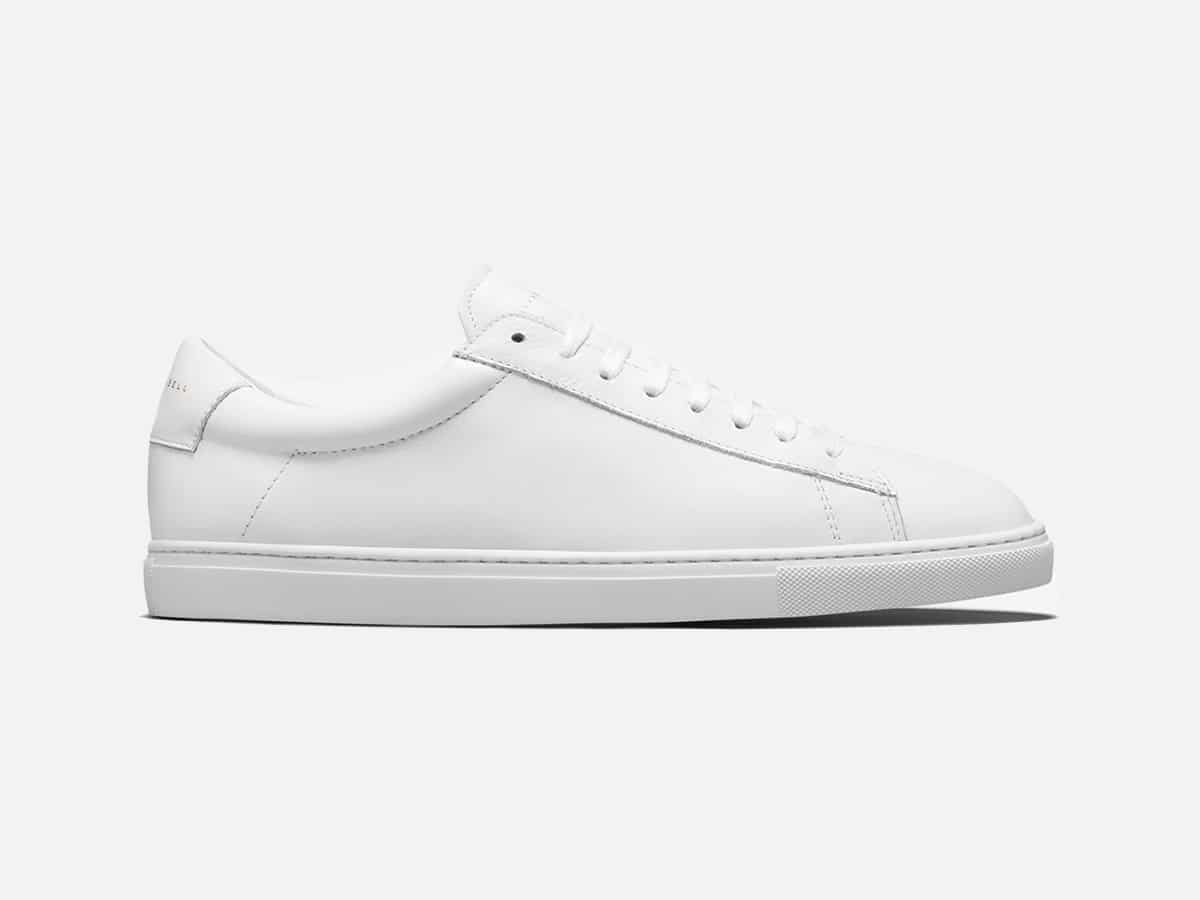 The Oliver Cabell Low 1 in white is a great option for both formal and casual wear. These handcrafted sneakers are made of soft calfskin leather and feature Margom outsoles for all-day comfort. They are the best-value white sneakers on the market and have many high ratings from customers. Choose the Low 1 to take your business casual outfit to the next level.
Construction: Hand-stitched and lasted in Marche, Italy.
Upper: 3oz full-grain calfskin leather from Marche, Italy.
Outsole: Margom Italian outsoles — renowned for their durable, lightweight rubber.
Footbed: Italian calf-skin over removable moulded insole.
Lining: Italian calfskin leather.
Counters: 3oz full-grain calfskin leather from Marche, Italy.
Laces: Italian cotton.
3. adidas Stan Smith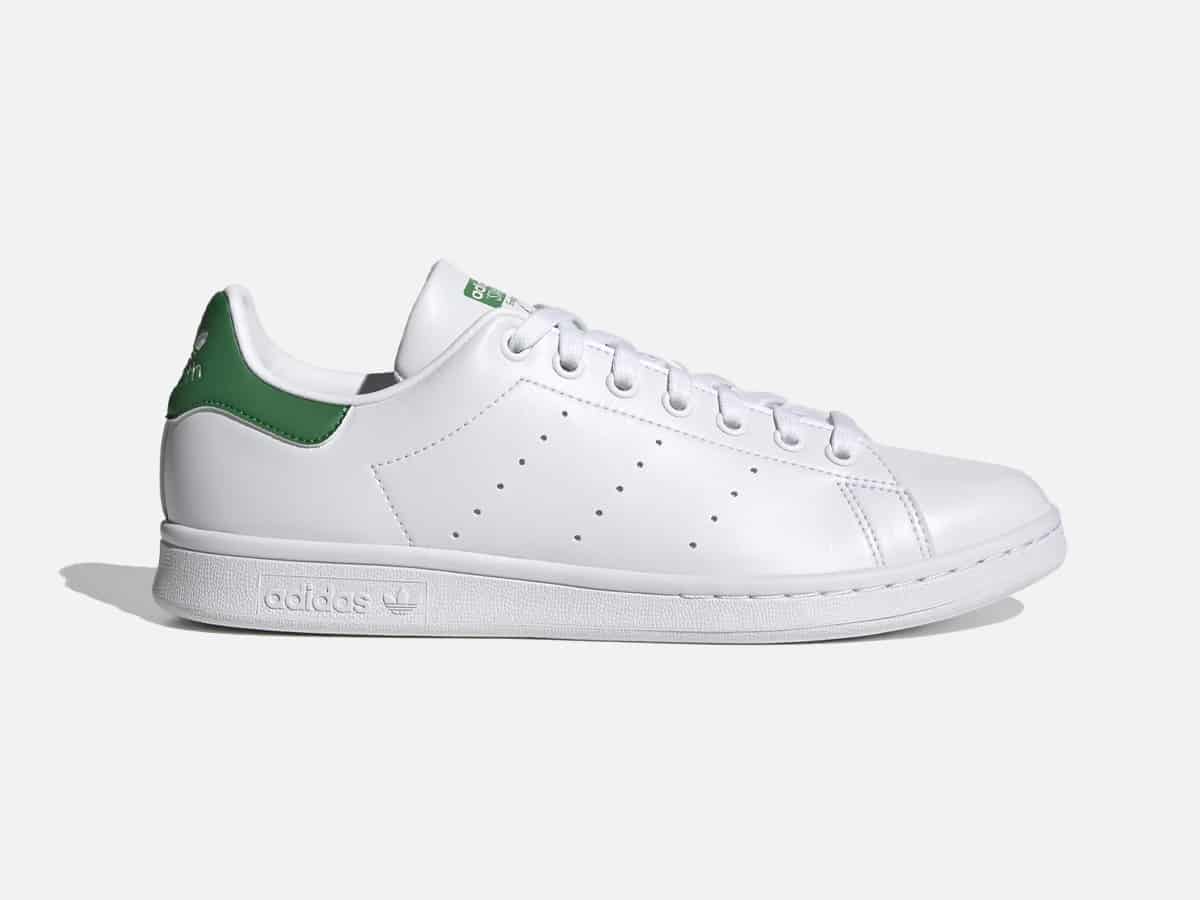 The adidas Stan Smith is a classic white sneaker with a great silhouette and perforated three-stripe detailing on the side. Introduced in 1971, it created the 'white sneaker' trend and is a great choice for any outfit. The green heel tab adds a nice touch. This is the ultimate one size fits all shoe and remains as perfect as ever.
Materials: Primegreen upper, made from a series of high-performance recycled materials.
Colourway: Cloud White/ Cloud White/ Green
4. Reebok Club C 85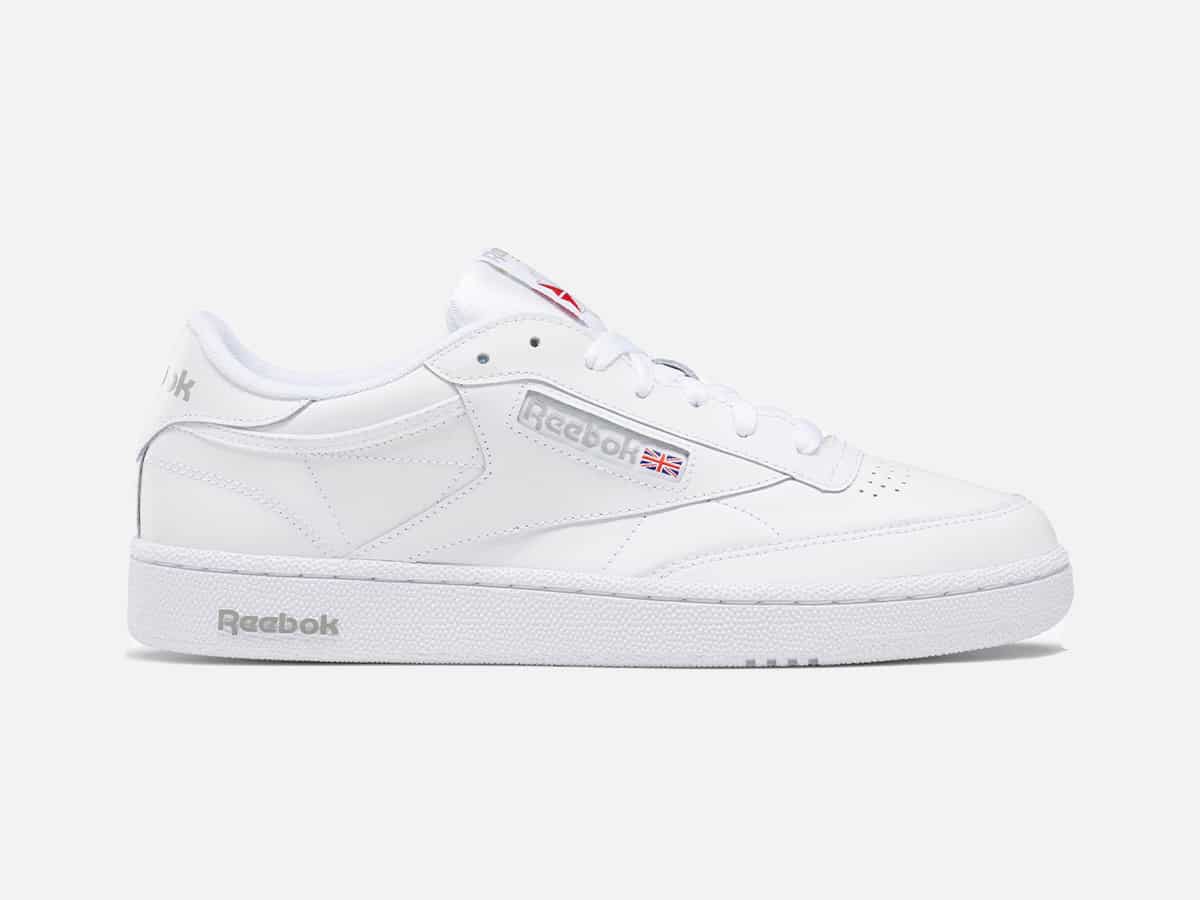 The Reebok Club C 85 is an affordable and stylish white sneaker with a soft leather upper and a forward-facing arrowhead design. The versatile retro style makes it perfect for everyday wear and most styles of dressing, from athleisure to business casual. The window logo box runs across the quarter panels and the brand's logo is on the heel counter. This is a popular shoe for a reason.
Material: Soft leather upper, moulded sock liner.
Colourway: White/ White/ Blac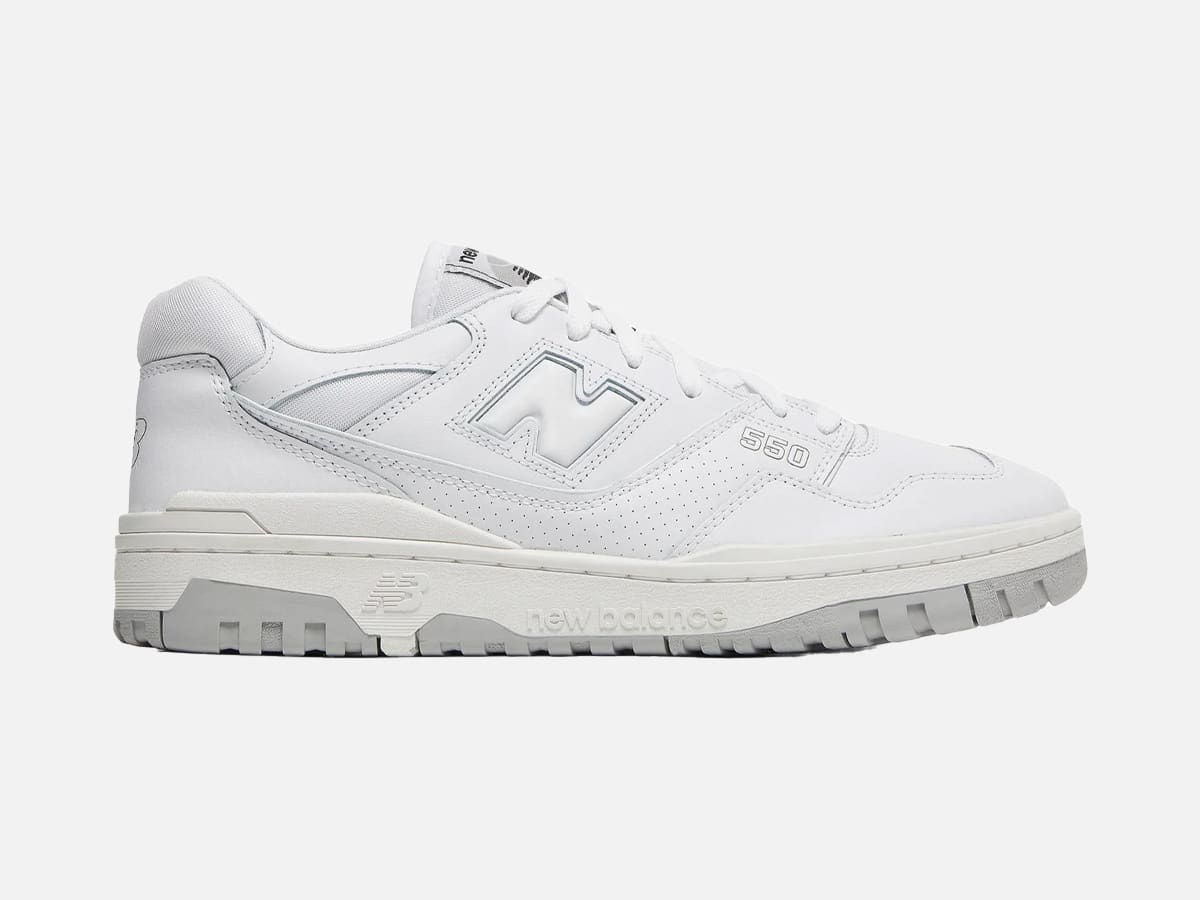 This brand has been on a roll with the BB550 sneaker, which began with the Aime Leon Dore collaboration and has since expanded to include many general-release colorways. The shoe features a perforated leather upper and comfortable rubber boot-style footbed. It pairs well with Carharrt double-knee pants for a trendy social media look or linen trousers for summer wear. New Balance continues to dominate the sneaker game and has a lot in store for the new year.
Features: Premium leather upper, lace-up closure for a secure fit.
Colourway: White/ Grey
6. Common Projects Original Achilles Low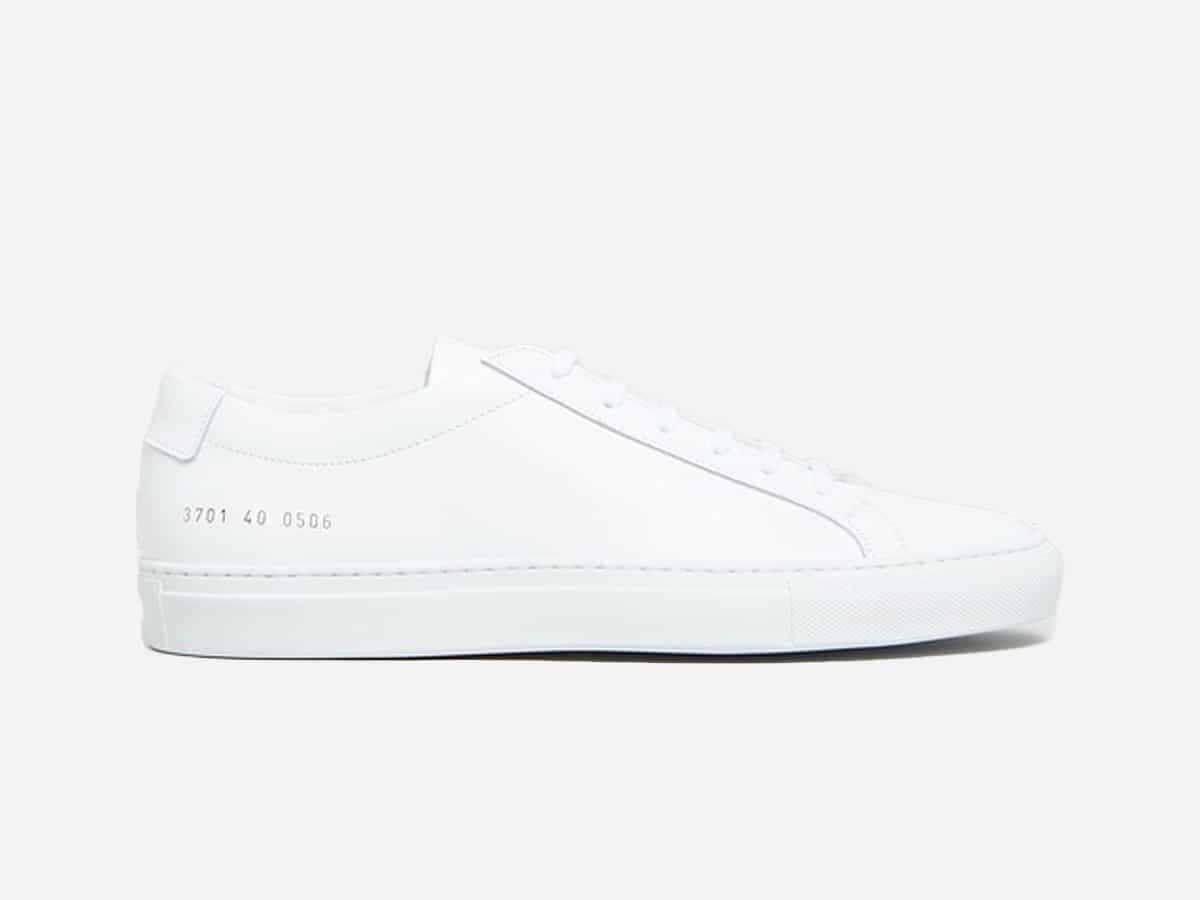 These white sneakers for men are a must-have for any sneaker rotation, and are poised to make a comeback. To wear them today, try pairing them with cargo shorts, a plain white t-shirt, and white socks for a stylish and modern look.
Features: White leather, gold stamped serial numbers, leather linings, rubber soles, Made in Italy.
Colourway: White
7. Vans Authentic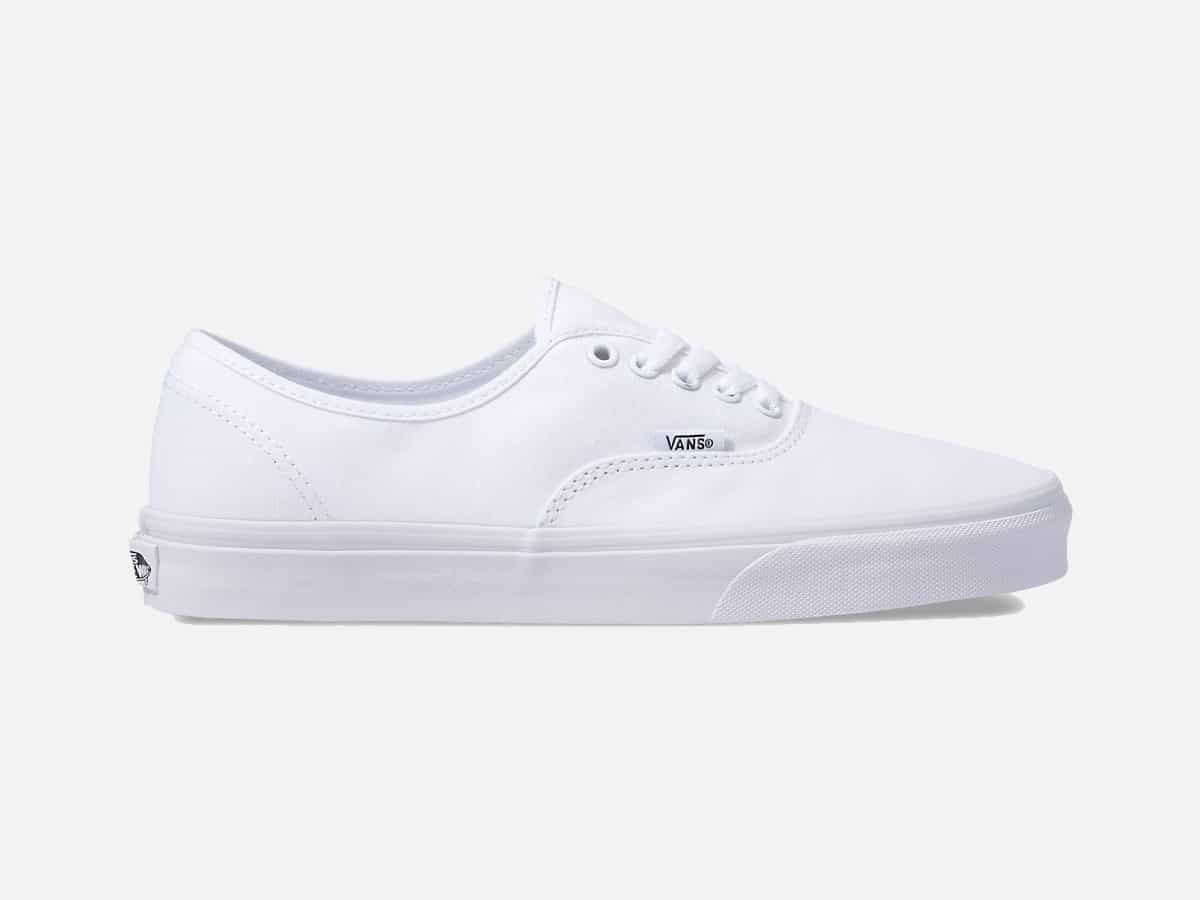 The Vans Authentic white sneakers are a classic and simple option for any wardrobe. With a low-top design, reinforced metal eyelets, and Vans' signature waffle outsole, these sneakers are easy to pair with a colored t-shirt and jeans or shorts for a casual look.
Features: Durable canvas upper, metal eyelets, Vans signature waffle outsole.
8. Converse Chuck 70 Low Top Parchment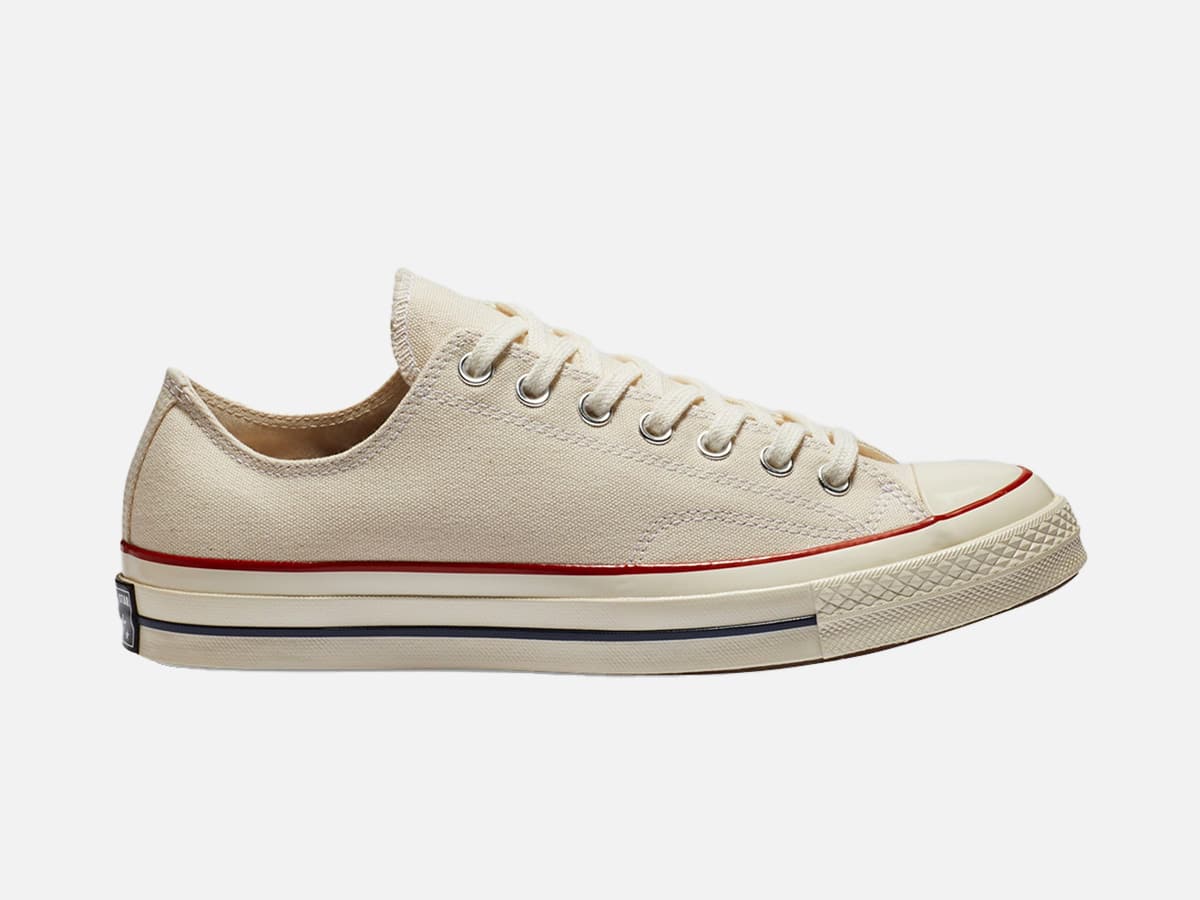 The Converse Chuck 70 white sneaker for men celebrates the original non-skid basketball shoe with a low-top silhouette and vintage details like stitching on the sidewall and a heavier canvas upper. The canvas gives it an 'off-white' hue that we love.
Features: Durable, organic cotton canvas, thicker rubber sole, OrthoLite cushioning
Colourway: Parchment/ Garnet/ Egret
9. Stepney Workers Club Dellow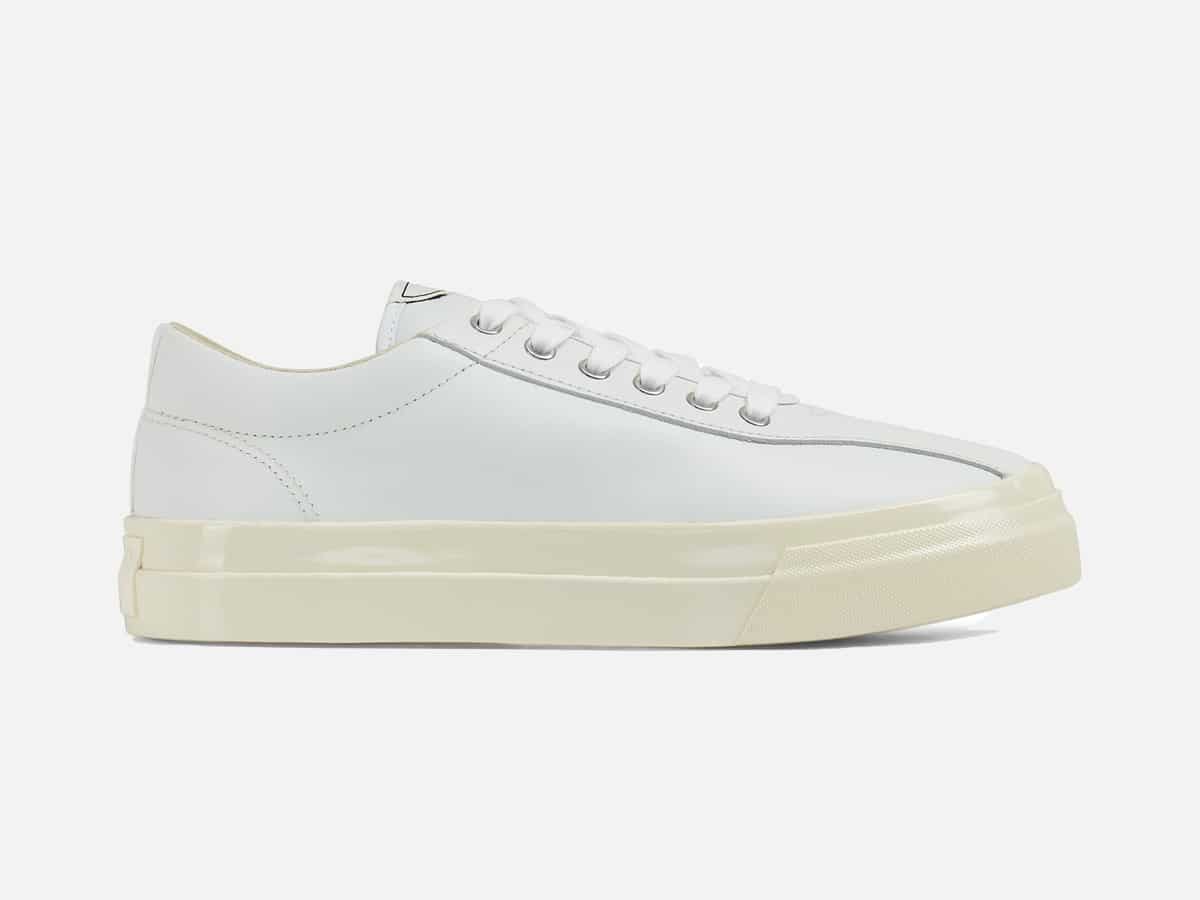 This brand from East London specializes in producing simple yet stylish white sneakers. One of their popular designs features an oversized rubber outsole, which adds a unique touch to the classic 90s-style silhouette. These sneakers are a great mix of casual and formal footwear and are particularly favored for their resemblance to popular styles such as the adidas Stan Smith and Common Projects Achilles.
Material: Premium leather, durable vulcanised rubber sole and high-wall foxings.
Colourway: White
10. adidas Continental 80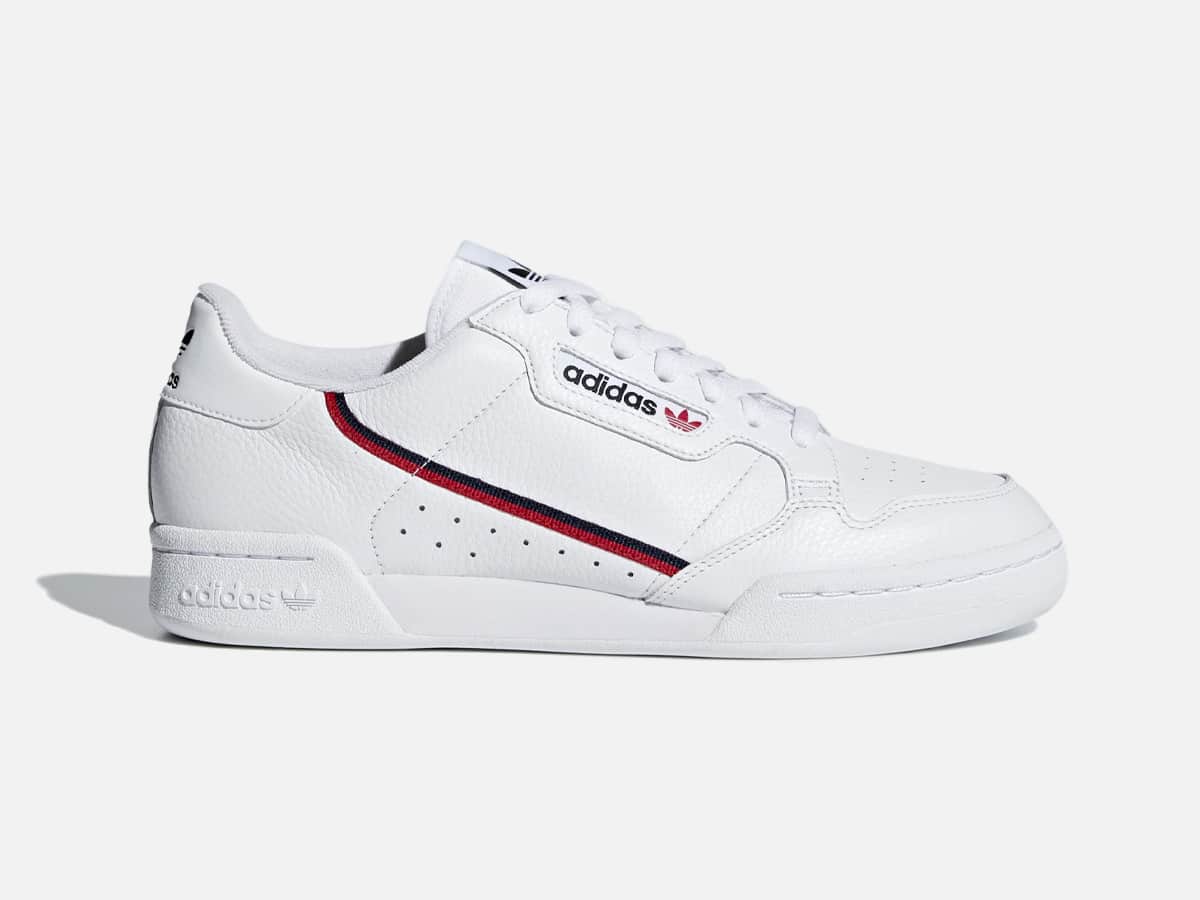 These retro white tennis sneakers from Adidas' Continental 80 collection have a classic 80s-style design. They are similar to the Yeezy Powerphase sneakers but are more widely available and affordable. These white sneakers are versatile and can be paired with athleisure, streetwear, or casual attire to create a stylish look.
Features: French terry lining and OrthoLite sockliner, EVA midsole insert and split rubber cupsole.
Colourway: Cloud White/ Scarlet/ Collegiate navy
11. Converse Jack Purcell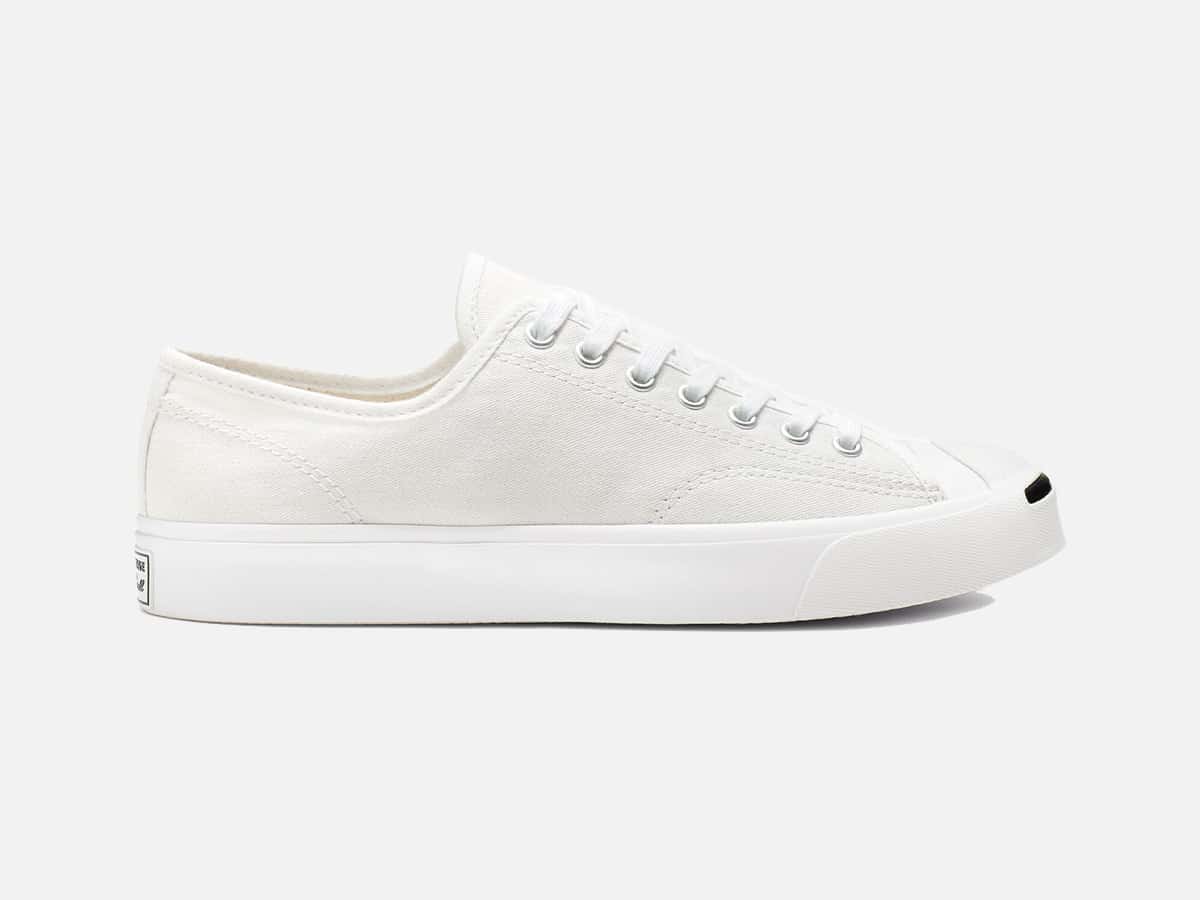 Converse's Jack Purcell sneakers were initially created for badminton world champion Jack Purcell in 1935 and have since become timeless footwear options. The all-white silhouette with black 'smile' branding on the toe cap makes them a favorite for minimalists. These sneakers are well-suited for casual athleisure or heritage workwear outfits, as endorsed by Charles and Ray Eames.
Features: Smile branding on the toe cap, multilayered cushioning with a wedge for added support, rubber sole.
Colourway: White/ White/ Black
White sneakers: What to Keep in Mind
Comfort
When selecting a pair of white sneakers, there are several important factors to keep in mind. First and foremost, comfort should be a top priority. It's crucial to ensure that the sneakers fit properly and are the right size for your feet. Checking customer reviews can help determine if the sneakers run true-to-size. Additionally, consider whether you have flat or arched feet, as some sneakers have flat soles that may be uncomfortable for those with arched feet. Sneakers with mildly curved soles, like the Nike Air Max SC, can provide gentle support. Some sneakers even allow you to insert your own insoles for better support, such as the Reebok Club C 85 Vintage Shoes.
Material
The material of the sneakers is also important, especially if you have a specific purpose in mind. Leather sneakers, like the Everlane ReLeather Court Sneakers and Vince Gabi Leather Low Top Sneaker, can provide an elevated feel that pairs well with smart business attire. However, if you're going to be on your feet all day, more flexible sneakers like the Banana Republic Knit Sneaker or the Vans Canvas Old Skool Shoe may be a better option.
Color
White sneakers come in various shades, such as off-white, pure white, and gray-white. Some sneakers may also have small colored details, such as logos and linings, made with the brand's signature colors. The Thursday Boots Premier Low Top Sneaker provides a clean and sleek look for a true-white sneaker. However, white sneakers with additional colors, like the Converse Chuck Taylor All-Star Classic and the Adidas Stan Smith Sneakers, may be more challenging to pair with everything. Sneakers with an off-white look, like the Cariuma Off-White Canvas Sneakers, are more casual and perfect for everyday wear.
White sneakers: Your Questions, Answered
How can you keep white sneakers clean?
To keep white sneakers clean, the method depends on the material. For canvas sneakers, you can use a spray bottle mixed with water and bleach, followed by scrubbing with a strong-bristled brush and drying in the sun. For white leather sneakers, use a mixture of hydrogen peroxide and baking soda and an old toothbrush to clean.
What can you wear white sneakers with?
White sneakers can be worn with anything, from a casual outfit of straight-fit jeans, fitted tees, and a blazer, to office wear with slacks and long dresses. White leather sneakers are also a great choice for office attire, adding personality while looking professional.
Can you wear white sneakers with work pants?
Yes, white sneakers can be worn with work pants, as the line between professional and comfortable has blurred. White leather sneakers are a great choice for office attire, as they add a touch of personality while still looking professional and buttoned up.