In the world of rock and roll, few names resonate as powerfully as Slash. The iconic top hat, the curly locks, and the unmistakable guitar riffs have made him a legend in the music industry. As of 2023, Slash's net worth is estimated to be around $90 million, according to Celebrity Net Worth. But how did the Guns N' Roses legend amass such wealth, and what has he been up to in recent years?
Born Saul Hudson in Hampstead, London, on July 23, 1965, Slash was introduced to the world of music at a tender age. His mother, Ola J. Hudson, was a renowned costume designer for stars like David Bowie and Ringo Starr. Meanwhile, his father, Anthony Hudson, was an artist who crafted album covers for legends like Neil Young and Joni Mitchell. Moving to Los Angeles at a young age, Slash's passion for music grew. He joined various bands, but it was his collaboration with Axl Rose and Izzy Stradlin that birthed the iconic Guns N' Roses. Their debut album, Appetite For Destruction, sold over 28 million copies, making it the best-selling debut album in the U.S. Hits like "Welcome to the Jungle" and "Paradise City" cemented their place in rock history.
Read More: Big Sean Vows To Keep Skulls In Home He Bought From Slash
Turbulent Times And Solo Ventures
LOS ANGELES – 1983: Guitarist Slash poses for a portrait in his bedroom with his guitars and a Marshall halfstack amplifier in 1983 in Los Angeles, California. (Photo by Marc S Canter/Michael Ochs Archives/Getty Images)
Despite their immense success, Guns N' Roses faced internal conflicts. Drug use and personal tensions led to several lineup changes. Slash eventually left the band in 1996 and embarked on a successful solo career. He collaborated with numerous artists, from Michael Jackson to Quentin Tarantino. In 2010, he released a solo album, further showcasing his versatility and genius.
Reunion And Continued Success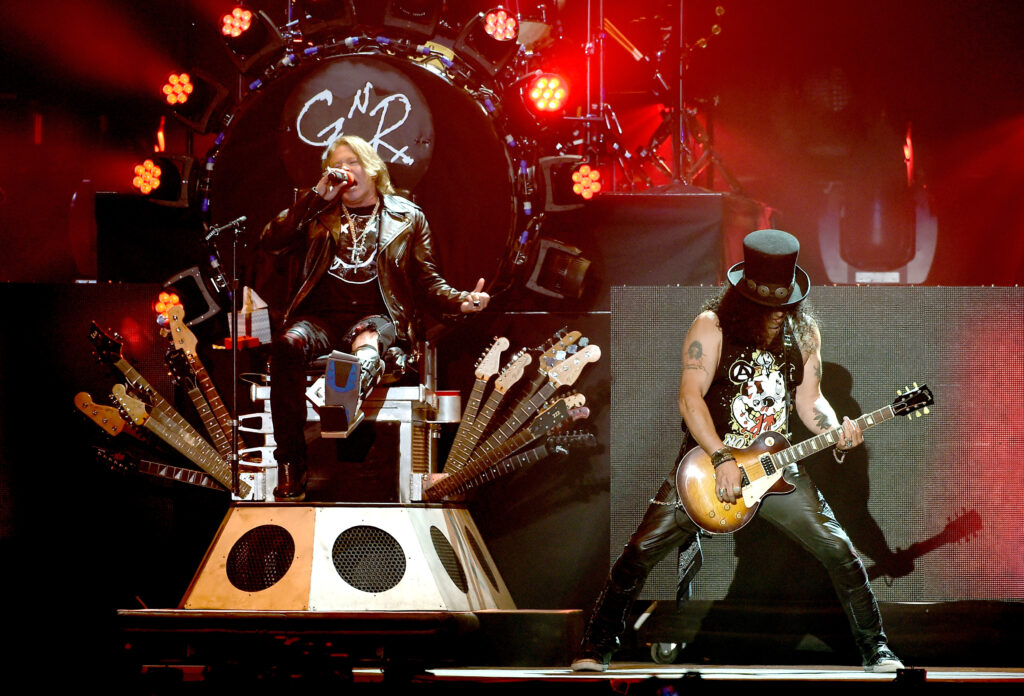 INDIO, CA – APRIL 16: Musician Axl Rose and Slash of Guns N' Roses performs onstage during day 2 of the 2016 Coachella Valley Music & Arts Festival Weekend 1 at the Empire Polo Club on April 16, 2016 in Indio, California. (Photo by Kevin Winter/Getty Images for Coachella)
In a move that delighted fans worldwide, Guns N' Roses reunited in 2016. Their "Not In This Lifetime" tour was a massive success, with both Slash and Axl Rose reportedly earning $40 million each.
Read More: Eazy-E Collab With Guns N' Roses Reportedly Exists
Beyond Music: Slash's Other Pursuits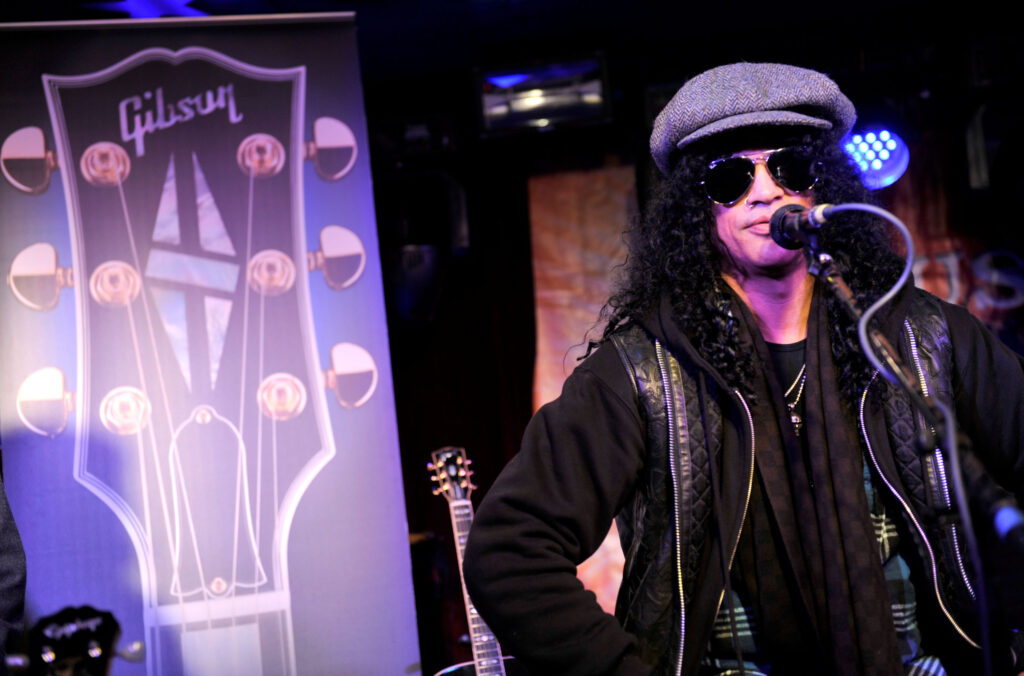 PARK CITY, UT – JANUARY 23: Guitarist Slash attends the Slasher Films Press Conference at House of Blues-Foundation Room on January 23, 2011 in Park City, Utah. (Photo by Toby Canham/Getty Images)
Outside of his illustrious music career, Slash has a penchant for films. He's appeared in various projects and even established his own horror film production company, Slasher Films, in 2010. An autobiography, a collection of over 100 guitars worth $1.92 million, and a deep love for pinball showcase the multifaceted nature of this rock legend.
Personal Life And Philanthropy
LOS ANGELES, CA – JUNE 11: Musician Slash (L) and actor Ed Begley Jr. attend the Greater Los Angeles Zoo Association's 46th Annual 'Beastly Ball' at Los Angeles Zoo on June 11, 2016 in Los Angeles, California. (Photo by Emma McIntyre/Getty Images)
Slash's personal life has seen its share of ups and downs. He's been married twice and has two sons. Health challenges, including a diagnosis of cardiomyopathy in 2001 due to substance abuse, led him to embrace sobriety in 2005. He's also been active in environmental welfare programs and serves on the board of trustees for the Greater Los Angeles Zoo Association.
Conclusion
From his early days in London to his meteoric rise with Guns N' Roses, Slash has left an indelible mark on the music industry. His net worth of $90 million in 2023 is a testament to his talent, resilience, and enduring appeal. As the years go by, one thing remains certain: the legend of Slash will continue to inspire generations to come.