Kaka, a name that resonates with soccer enthusiasts worldwide, has left an indelible mark on the sport. As of 2023, this Brazilian soccer legend's net worth is estimated to be around $90 million, according to Celebrity Net Worth. But how did Kaka amass such wealth, and what has been his journey in the world of soccer? Let's delve deeper.
Born Ricardo Izecson dos Santos Leite on April 22, 1982, in Gama, Federal District, Brazil, Kaka's journey to becoming a soccer icon is nothing short of inspiring. His family's move to São Paulo when he was seven proved pivotal for his career. It was here that he began playing for youth clubs, eventually catching the eye of São Paulo FC. Despite facing a severe spinal fracture at 18, Kaka's resilience saw him make his professional debut by 19. His exceptional talent soon caught the attention of European clubs, leading to his transfer to AC Milan in 2003 for a whopping 8.5 million euros.
Dominance In European Soccer
At AC Milan, Kaka's prowess was evident. Not only did he score goals, but his playmaking ability set him apart. His partnership with legends like Inzaghi and Shevchenko, and later with Andrea Pirlo, made AC Milan a force to reckon with. By 2006, Kaka was the centerpiece of the team, leading them to a Champions League victory in 2007. His performances didn't go unnoticed, with Kaka winning the coveted Ballon d'Or the same year.
However, the allure of playing for one of the biggest clubs in the world was too hard to resist. Real Madrid secured Kaka's services in 2009 for a staggering 68.5 million euros. But this move was marred by injuries, particularly a chronic left knee issue, which saw his form dip.
Read More: Gareth Bale Net Worth 2023: What Is The Soccer Legend Worth?
End Of An Era And Legacy
Kaka's time at Real Madrid was challenging, with injuries hindering his progress. A return to AC Milan and a subsequent move to Orlando City in the MLS marked the final chapters of his illustrious career. He retired in 2017, but his impact on the sport remains undeniable.
At his peak, Kaka was a maestro on the field. His combination of height, power, and skill made him a unique player. While injuries might have curtailed his time at the top, during his prime at AC Milan, many considered him the best in the world.
Read More: Zinedine Zidane Net Worth 2023: What Is The Soccer Legend Worth?
Beyond Soccer: Kaka's Humanitarian Efforts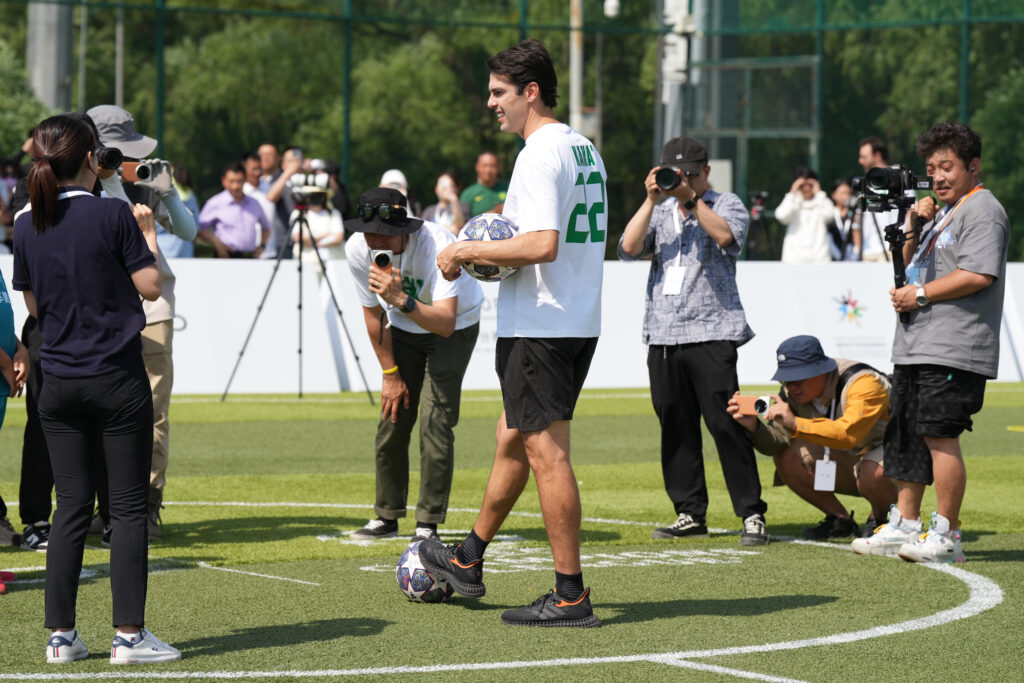 Kaka's influence isn't limited to the soccer field. He's been recognized for his humanitarian work post-retirement. His commitment to giving back showcases a side of him that goes beyond goals and assists.
Read More: Ronaldo (R9) Net Worth 2023: What Is The Soccer Legend Worth?
Kaka's Financial Acumen
While his annual salary at AC Milan touched $10 million, Kaka also earned significantly from endorsements. Brands like Adidas, Hyundai, and WiseUp saw the value in associating with him. His modeling contract with Armani further added to his earnings. His financial prudence is evident in his real estate investments, like the $3.4-million mansion he purchased in Orlando's affluent Isleworth neighborhood.
Read More: David Beckham Net Worth 2023: What Is The Soccer Legend Worth?
Conclusion
Kaka's net worth in 2023 is a testament to his skill, dedication, and business acumen. While injuries might have shortened his time at the pinnacle of soccer, his legacy as one of the game's greats is undeniable. The Brazilian maestro's journey from São Paulo to becoming a global soccer icon is a story of resilience, talent, and sheer determination.