Grand Theft Auto 6, the highly-anticipated next chapter in the iconic franchise developed by Rockstar Games Inc., is on the horizon, generating tremendous excitement among gamers and fans. 10 years after the release of Grand Theft Auto 5, its follow-up stands as one of the most anticipated releases of this decade. With a trailer expected in December, the unveiling of GTA VI is a significant event in the gaming world. 
What should we expect, though? Rockstar Games has frequently pushed the boundaries of gaming with each installment in the coveted series. Between alleged gameplay leaks and updates from Rockstar Games over the years, it seems that they're planning to redefine the gaming world, once again, with Grand Theft Auto 6. Here's what we know.
Read More: Radio Stations in GTA V We Want In GTA 6
Grand Theft Auto: A Background On The Series
Staff Photo by John Patriquin, Tuesday, October 26, 2004: Grand Theft Auto video display at Best Buy in South Portland. (Photo by John Patriquin/Portland Press Herald via Getty Images)
Rockstar Games Inc., the renowned developer of the Grand Theft Auto series, is gearing up to unveil its plans for the highly-anticipated Grand Theft Auto 6, with a trailer expected in December to mark the company's 25-year anniversary. This upcoming installment in the iconic franchise has gamers and fans eagerly awaiting its release. Grand Theft Auto, initiated in 1997, evolved into a cultural phenomenon since its release. With a catalog boasting over 405 million copies sold worldwide, it received acclaim for its open-world gameplay.
Read More: GTA 6 Rumored Production Costs Are Insane
What Can We Expect from GTA VI?
Grand Theft Auto allows players to traverse recreations of cities like Miami, Los Angeles, and New York. Although early designs for GTA VI hinted at a vast North and South American setting, the final game will center around a fictionalized Miami and its surroundings. Players will take on the roles of two protagonists, a man and a woman. Leaks have provided glimpses of modern-day Vice City, fresh gameplay mechanics, and improved AI.
Read More: 50 Cent Developing "Vice City" Show Based On "Grand Theft Auto"
How Will GTA VI Differ From Its Predecessors?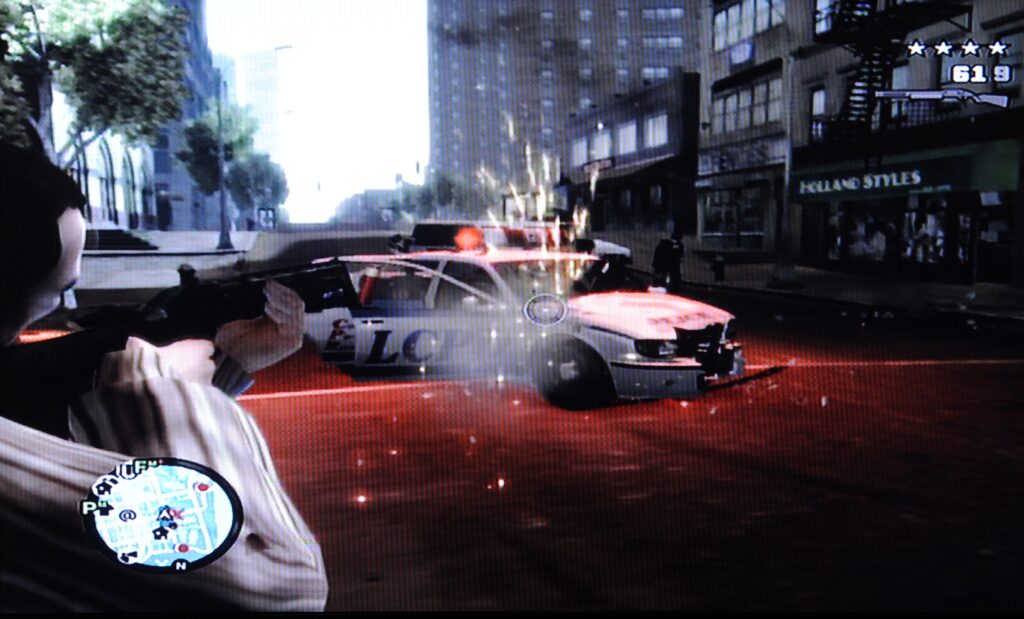 Gameplay for GTA 4. (Photo by Alexandre MARCHI/Gamma-Rapho via Getty Images)
The Grand Theft Auto franchise has greatly evolved since its top-down view beginnings. With each iteration, it has embraced more cinematic qualities, featuring celebrity voices and immersive narratives. In an industry where competition in the genre of Hollywood-like games has intensified, players anticipate that Rockstar and Take-Two will elevate their standards. With budgets reaching nine figures for top-tier titles, Rockstar is poised to invest heavily in ensuring GTA VI matches the success of its predecessor.
Per Dextero, in a groundbreaking gameplay revelation, leaks revealed GTA 6 will likely introduce an unprecedented number of enterable buildings, significantly exceeding any previous title in the series. Furthermore, this innovative feature promises to be a central element of the game, directly influencing core gameplay mechanics like theft and robbery. Players will have the opportunity to explore a diverse array of locations, from traditional venues like bars and clubs to new environments such as pawn shops, supermarkets, apartments, and laundries. The inclusion of pawn shops, in particular, hints at an enhanced role in heist missions, building on the concept of robberies from GTA V. This exciting gameplay evolution looks like it will redefine the GTA experience. Additionally, the game seems like it will deliver a dynamic and immersive open-world environment for players to explore and interact with, making GTA 6 one of the most eagerly anticipated titles in recent memory.
Read More: Rockstar Games Breaks Silence On "GTA 6" Leak
When Will GTA VI Hit Shelves?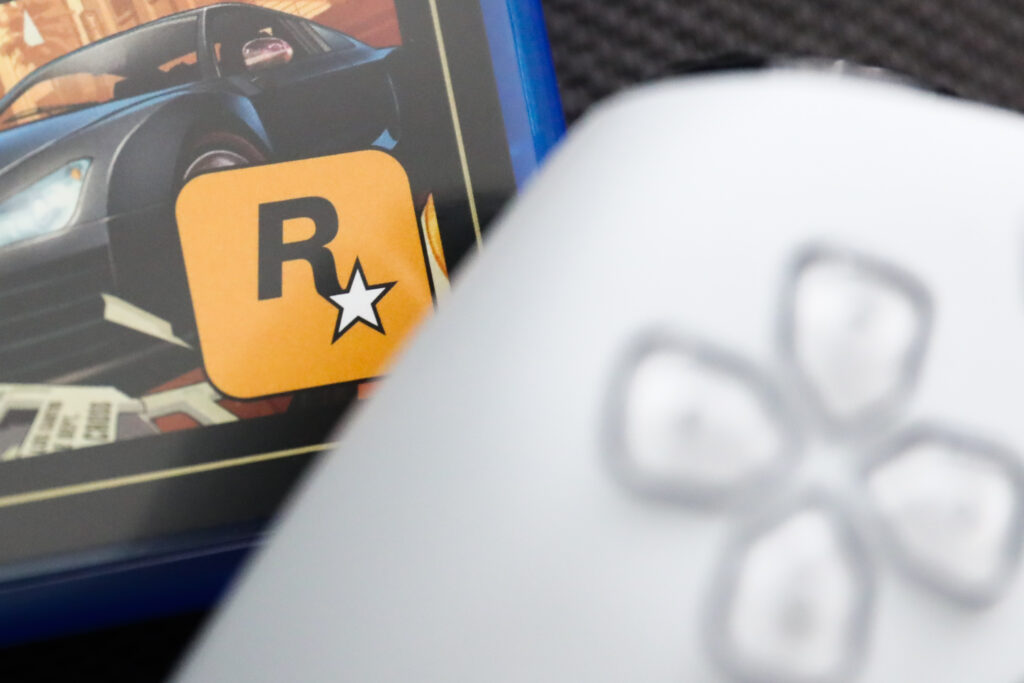 Rockstar Games logo on Grand Theft Auto V game packaging and PlayStation DualSense controller. (Photo by Jakub Porzycki/NurPhoto via Getty Images)
Initial expectations pointed to a release sometime in Take-Two's 2024 fiscal year, covering April 2023 through March 2024. However, the world of video game development is notorious for unexpected delays, as seen with titles like Cyberpunk 2077. Rockstar has kept its cards close to the chest, stating the game will be ready when it's ready. Despite the anticipation, there is no rush, with GTA Online still enjoying a healthy player base.
The significance of GTA VI to Rockstar is immense. Its predecessor, Grand Theft Auto V, set records as the fastest entertainment release to reach $1 billion in retail sales and remained the best-selling game in the US over the past decade. The addition of GTA Online's multiplayer platform has been a significant source of revenue, further expanded by the introduction of a paid GTA+ subscription. Moreover, the release of GTA VI is expected to replicate this success and drive growth in revenue from online services and in-game content.
Read More: "GTA 6" Receives Crucial Release Update
Conclusion
Grand Theft Auto 6, or GTA VI, holds a special place in the hearts of gamers and fans alike. The anticipation is high, and with Rockstar's track record, the game is expected to deliver an unforgettable experience. There's no doubt that it will solidify its position as a cultural phenomenon in the world of video games. While the exact release date remains uncertain, one thing is clear: GTA VI is set to make waves when it finally hits the shelves.