In Mixed Martial Arts (MMA), few names resonate as powerfully as Francis Ngannou. As of 2023, the Cameroonian-born fighter's net worth is estimated to be around $15 million, according to Celebrity Net Worth. Let's delve into the journey that led him to amass such wealth and understand the factors contributing to his financial success.
Francis Ngannou's story is one of resilience and determination. Born in Batie, Cameroon, Ngannou faced poverty and hardship from a young age. His journey from working in sand mines to becoming an MMA sensation is inspirational. The fighter's relentless pursuit of his dreams has not only brought him fame but also substantial financial rewards.
Breaking Down Ngannou's Net Worth
PHOENIX, ARIZONA – FEBRUARY 16: Francis Ngannou of Cameroon poses on the scale during the UFC Fight Night weigh-in at Comerica Theatre on February 16, 2019 in the Phoenix, Arizona. (Photo by Josh Hedges/Zuffa LLC/Zuffa LLC via Getty Images)
Ngannou's estimated net worth of $15 million can be attributed to various sources of income. His earnings are not confined to his winnings in the octagon but extend to endorsements, sponsorships, and media appearances.
Fight Winnings
A significant portion of Ngannou's wealth comes from his fight winnings. With a track record of delivering knockout punches and memorable victories, he has become a crowd favorite. His fights draw substantial viewership, leading to lucrative paydays.
Endorsements and Sponsorships
Endorsements also play a crucial role in boosting Ngannou's net worth. Brands align themselves with his powerful image, and he has secured sponsorships from companies seeking to capitalize on his popularity.
Media Appearances
Ngannou's media appearances, including interviews and features, contribute to his income. His compelling story and charismatic personality make him an appealing figure for various media outlets.
The Future of Francis Ngannou's Net Worth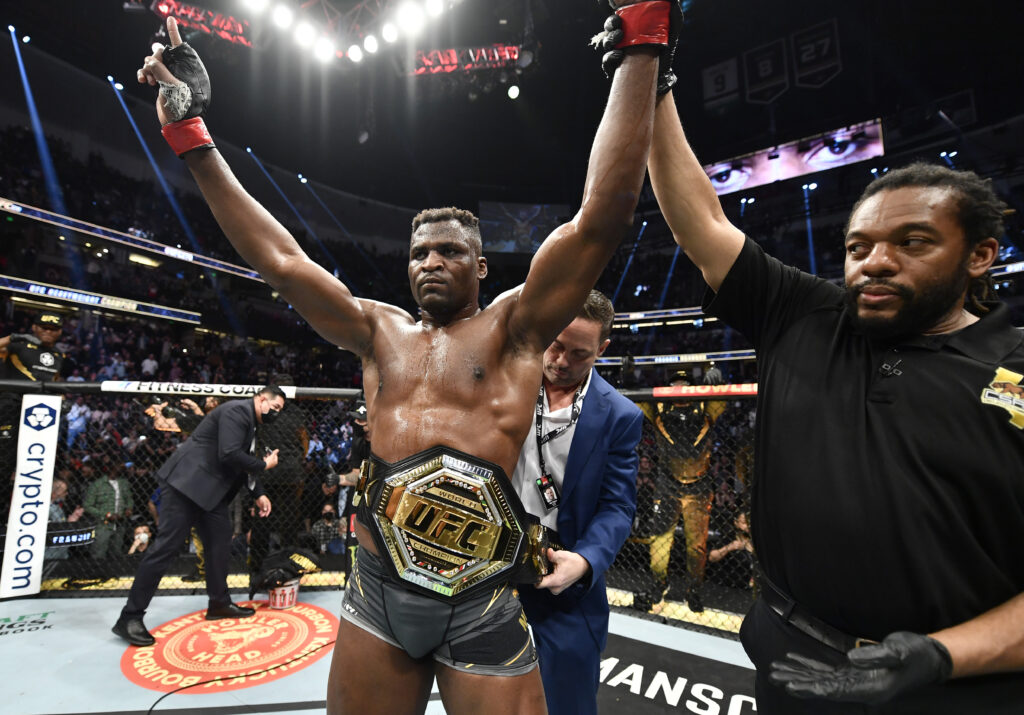 ANAHEIM, CALIFORNIA – JANUARY 22: Francis Ngannou of Cameroon celebrates after his victory over Ciryl Gane of France in their UFC heavyweight championship fight during the UFC 270 event at Honda Center on January 22, 2022 in Anaheim, California. (Photo by Chris Unger/Zuffa LLC)
Given his current trajectory, it is likely that Ngannou's net worth will continue to grow. His dedication to the sport, coupled with his marketability, positions him well for future financial success.
Potential Fights
Upcoming fights present opportunities for Ngannou to increase his earnings. High-profile matchups and title defenses can lead to substantial payouts.
Brand Collaborations
As Ngannou's star continues to rise, more brands may seek collaborations, leading to increased revenue from endorsements and sponsorships.
Media and Entertainment Ventures
Ngannou's foray into media and entertainment ventures could also augment his wealth. His compelling story and persona make him an attractive figure for various projects.
The Impact of Ngannou's Philanthropy
PHOENIX, ARIZONA – FEBRUARY 17: (L-R) Francis Ngannou of Cameroon and Cain Velasquez exchange punches in their heavyweight bout during the UFC Fight Night event at Talking Stick Resort Arena on February 17, 2019 in Phoenix, Arizona. (Photo by Josh Hedges/Zuffa LLC/Zuffa LLC via Getty Images)
Despite his wealth, Ngannou remains grounded and committed to giving back to his community. He founded the Francis Ngannou Foundation, which aims to empower the youth in Cameroon. His philanthropic efforts underscore the fighter's dedication to using his wealth for positive change. Further, when compared to other MMA fighters, Ngannou's net worth is impressive. While some veterans in the sport may boast higher figures, Ngannou's rapid ascent in both fame and fortune is noteworthy.
Francis Ngannou's net worth is a testament to his skill, determination, and marketability. His journey from humble beginnings to amassing a fortune of $15 million speaks volumes about his resilience. Beyond his financial worth, Ngannou stands as an inspirational figure, using his wealth and influence to impact his community positively. As we look towards the future, it is evident that Ngannou's worth, both in and out of the octagon, is poised to grow even further.