Explore the pinnacle of sneaker culture with our curated selection of the Five Best Nike LeBron 7s available on Stadium Goods. From timeless classics to rare gems, we delve into the unique stories behind each pair. Join us as we navigate the exclusive world of LeBron James' signature line, celebrating the fusion of style and performance that defines these coveted sneakers at Stadium Goods.
Nike Lebron 7 Retro QS "China Moon"
Starting this list off with a bang is this LeBron 7 in a regal gold colorway. The sneakers feature an air bubble midsole, for comfort and performance on the court. This sneaker features a white base with gold accents, including the Flywire lining. The tongues feature LeBron branding, while Chinese-inspired details adorn the heels.
Nike Air Max Lebron 7 Retro "Christmas 2019"
Image via Stadium Goods
This special edition sneaker is retro to the pair worn by LeBron James himself in 2009 on Christmas day. This sneaker features a mostly red upper, with silver accents on the Nike Swoosh, lace locks, and LeBron branding. Channel the holiday spirit in this pair of high-performance LeBron basketball sneakers today.
Nike LeBron 7 "Florida A&M"
Image via Stadium Goods
Florida A&M University became the first HBCU sponsored by LeBron and Nike, and they received a LeBron 7. This pair features the colorway of the school, green and orange. This sneaker takes on a mostly black look, with accent coloring. The school's logo can be found on the tongues and LeBron's branding is near the heels.
Nike LeBron 7 "FAMU"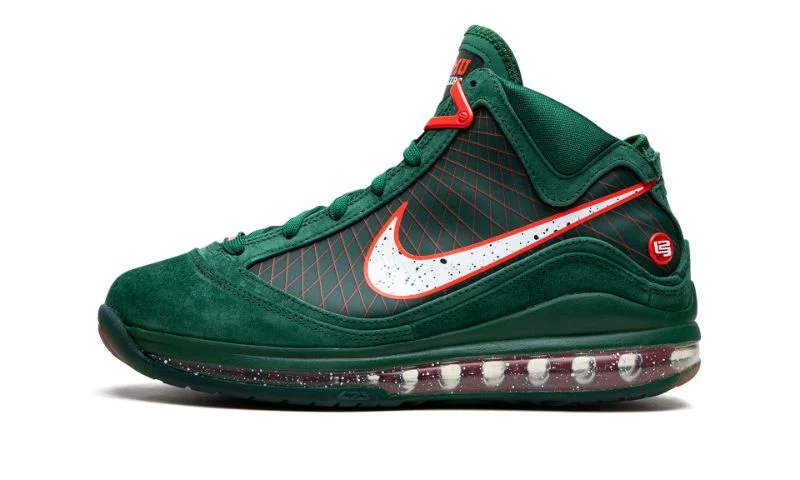 Image via Stadium Goods
Of course, the LeBron couldn't just stop at 1 LeBron 7 for Florida A&M University. This pair features a much more vibrant colorway, with an all-green base and orange accents. An air bubble sole and speckled Swoosh complete the design. Also, "FAMU Rattlers" is found on both tongues, with the LeBron branding minimally located near the heels.
Nike Air Max Lebron 7 "Media Day"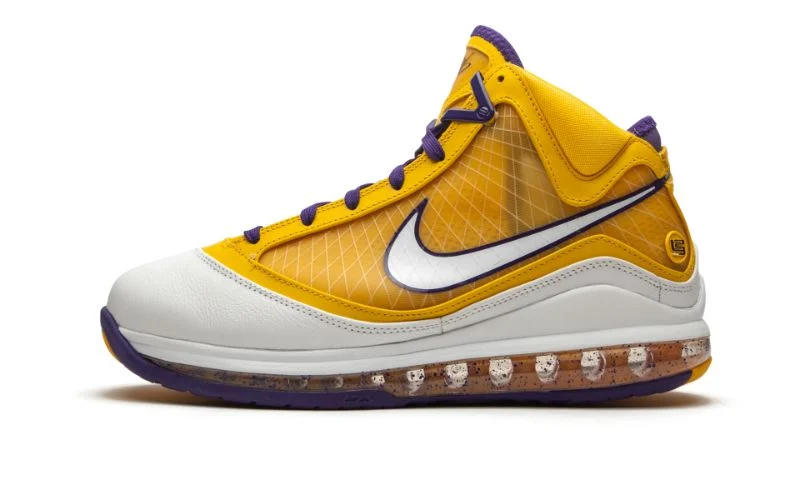 Image via Stadium Goods
Finally, this sneaker features the Los Angeles Lakers colorway, LeBron's current team. The iconic yellow and purple dress the sneakers, with inverted colors on the right and left shoes. LeBron's branding again graces the heels. This pair is available, right now, on Stadium Goods!
Let us know which of these shoes are your favorite, in the comments section down below.
This post contains affiliate links. Please read our disclosure policy here