Conor McGregor, the Irish MMA sensation and UFC superstar, has made headlines not just for his prowess inside the octagon but also for his financial achievements. As of 2023, the "Notorious" Conor McGregor boasts an estimated net worth of a staggering $200 million, according to Celebrity Net Worth. But how did McGregor amass such a fortune? Let's delve into the journey of this UFC megastar.
Born on July 14, 1988, in Dublin, Ireland, Conor Anthony McGregor's passion for combat sports began with boxing at 12. His journey into the world of MMA started when he met fighter Tom Egan, and the two began training together. McGregor's dedication and talent quickly became evident, making his amateur MMA debut at 18 and turning professional shortly after.
UFC: The Rise Of The Notorious
LAS VEGAS, NV – AUGUST 25: UFC lightweight champion Conor McGregor poses on the scale during his official weigh-in at T-Mobile Arena on August 25, 2017 in Las Vegas, Nevada. McGregor will meet boxer Floyd Mayweather Jr. in a super welterweight boxing match at T-Mobile Arena on August 26. (Photo by Ethan Miller/Getty Images)
In 2013, UFC President Dana White, upon visiting Dublin, was inundated with recommendations to sign the local fighter, Conor McGregor. Heeding the advice, White met McGregor, and soon after, the Irish fighter made his UFC debut. McGregor's unique fighting style, combined with his charisma, quickly made him a fan favorite. His bouts, including those against renowned fighters like Nate Diaz and Jose Aldo, not only added to his fame but also his fortune. For instance, his 13-second fight against Aldo in December 2015 earned him a cool $12 million.
2017 saw McGregor venture outside the MMA cage and into the boxing ring, facing off against the undefeated boxing champion, Floyd Mayweather. This fight, one of the most lucrative PPV events ever, guaranteed McGregor $30 million. However, with bonuses and other earnings, McGregor's total from this bout exceeded $100 million.
Whiskey Business: Proper No. 1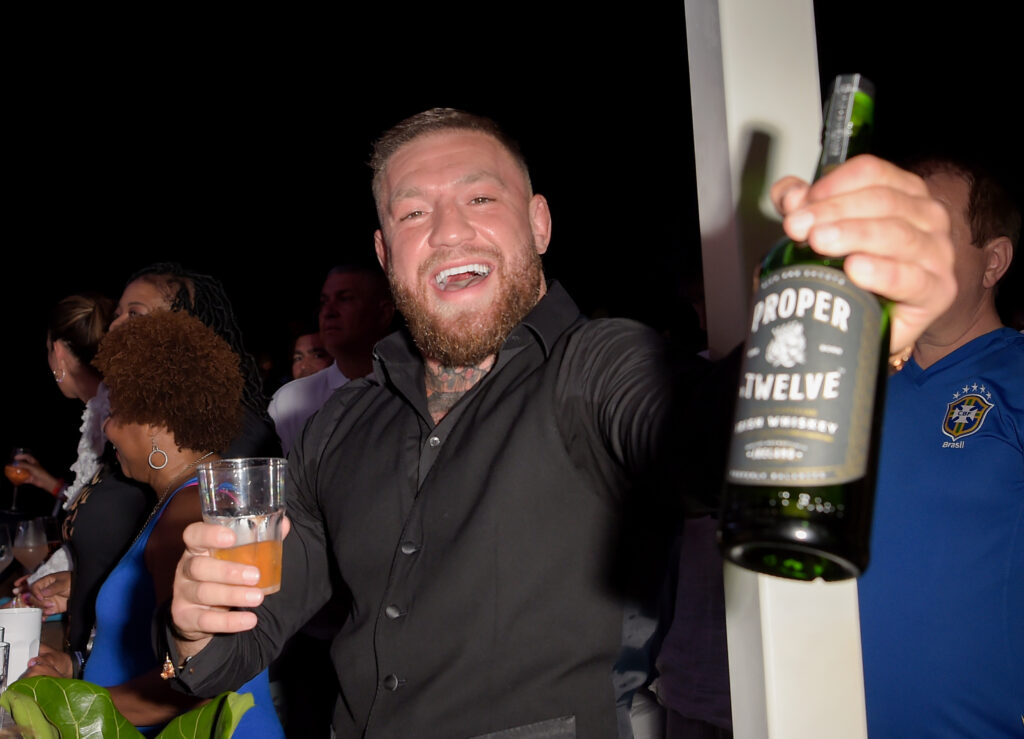 CANNES, FRANCE – JUNE 20: Conor McGregor attends as Spotify hosts an evening of music with star-studded performances with DJ Pee .Wee aka Anderson .Paak and Kendrick Lamar, during Cannes Lions 2022 at Spotify Beach on June 20, 2022 in Cannes, France. (Photo by Antony Jones/Getty Images for Spotify)
Outside the ring, McGregor showcased his entrepreneurial spirit by launching the Proper No. Twelve Irish whiskey brand in 2018. Partnering with liquor company Proximo Spirits, McGregor's whiskey venture saw immense success. By April 2021, McGregor and his partners sold their remaining stake in Proper No. Twelve, with the deal's total value potentially reaching $600 million. From this venture alone, McGregor stands to make around $200 million.
McGregor's fame and marketability have also led to lucrative endorsement deals with major brands like Burger King, Beats by Dre, and Anheuser-Busch. These endorsements, combined with his fight earnings, have significantly contributed to his net worth.
Conclusion
LAS VEGAS, NV – DECEMBER 12: Conor McGregor speaks at a post-fight press conference after beating Jose Aldo in their featherweight title fight during UFC 194 at MGM Grand Garden Arena on December 12, 2015 in Las Vegas, Nevada. McGregor won with a first-round knockout. (Photo by Steve Marcus/Getty Images)
Conor McGregor's journey from a young boy in Dublin to a global UFC megastar is inspirational. His achievements inside the octagon, combined with his business ventures and endorsements, have solidified his position as one of the wealthiest athletes in the world. With an estimated net worth of $200 million in 2023, McGregor's star shows no signs of dimming. Whether he's facing opponents in the ring or launching new business ventures, the world eagerly watches the next move of the "Notorious" Conor McGregor.