Brad Pitt, a name synonymous with Hollywood stardom, has been a fixture in the entertainment industry for decades. As of 2023, his net worth stands at an impressive $400 million, according to Celebrity Net Worth. But how did he amass such wealth, and what ventures contributed to his financial success?
Brad Pitt is not just an actor; he's a brand. He consistently commands a minimum of $20 million for major motion picture releases. For an upcoming Apple TV movie about Formula One, he secured a career-high upfront salary of $30 million. Moreover, Brad's talent is undeniable. He has been nominated for several Academy Awards and won the Best Supporting Actor Oscar for Once Upon a Time in Hollywood in 2020. Earlier, in 2014, he clinched an Academy Award as a Producer when 12 Years a Slave bagged the Best Picture award.
One of the significant contributors to Brad's net worth is his co-founding of Plan B Entertainment. Initially started with his then-wife, Jennifer Aniston, in the 1990s, Brad later bought her out after their divorce. Over the years, Plan B has been behind some of the most critically acclaimed films, including The Departed, Moonlight, and 12 Years a Slave. Many of Brad's movies, such as Troy, Moneyball, and The Big Short, were produced under this banner.
Early Life & Rise To Stardom
American actor Brad Pitt, London, 1988. (Photo by Michael Putland/Getty Images)
Born on December 18, 1963, in Shawnee, Oklahoma, Brad Pitt's journey to Hollywood stardom began in Springfield, Missouri. He attended the University of Missouri, majoring in journalism. However, the allure of acting led him to drop out just two weeks shy of graduation and move to Los Angeles. From minor roles and guest appearances, Brad's breakthrough came with his supporting role in Thelma and Louise. His performances in movies like Seven, 12 Monkeys, and Fight Club solidified his position as a leading man in Hollywood.
Brad's film choices also showcase his versatility. From Ocean's Eleven and Troy to Mr. and Mrs. Smith and World War Z, his filmography is diverse. He's also set to star in and produce a Formula One racing film directed by Joseph Kosinski for Apple TV. Pitt earned a whopping $30 million. Further, in October 2022, it was revealed that Plan B was selling a 60% stake to French media conglomerate Mediawan, valuing Plan B at $300 million. This transaction indicates Brad's astute business acumen, ensuring his net worth continues to grow.
Personal Life & Philanthropy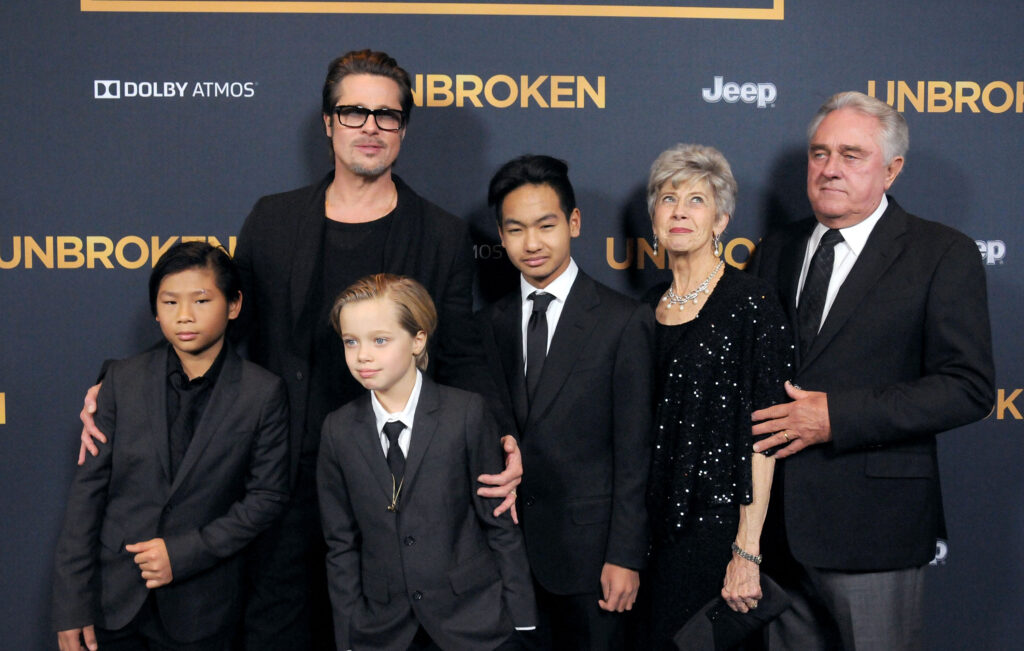 HOLLYWOOD, CA – DECEMBER 15: (L-R) Pax Thien Jolie-Pitt, Shiloh Nouve Jolie-Pitt, actor Brad Pitt, Maddox Jolie Pitt, Jane Pitt and also William Pitt attend the premiere of 'Unbroken' at TCL Chinese Theatre IMAX on December 15, 2014 in Hollywood, California. (Photo by Barry King/FilmMagic)
Brad's personal life, including his marriages to Jennifer Aniston and Angelina Jolie, has always been in the limelight. He and Jolie have six children, and their photos have fetched millions, setting records for celebrity photographs. Additionally, besides his film and business ventures, Brad is known for his philanthropic efforts. He has generously donated to various causes, including the ONE Campaign, Make It Right Foundation, and the Jolie-Pitt Foundation. After the devastating Haiti earthquake in 2010, Brad and Jolie donated $1 million to Doctors Without Borders.
Real Estate Ventures
LOS ANGELES, CALIFORNIA – JANUARY 19: (L-R) Al Pacino, Leonardo DiCaprio and Brad Pitt attend 2020 Netflix SAG After Party at Sunset Tower on January 19, 2020 in Los Angeles, California. (Photo by Michael Kovac/Getty Images for Netflix)
Brad's real estate portfolio is as impressive as his filmography. He owns properties worldwide, valued at over $100 million cumulatively. From his primary home in L.A.'s Los Feliz neighborhood to properties in New Orleans, Malibu, and even a winery in France called Chateau Miraval, Brad's real estate investments are a testament to his business acumen.
In conclusion, Brad Pitt's net worth of $400 million in 2023 is a culmination of his exceptional talent, smart business decisions, and continuous efforts in the entertainment industry. As he continues to shine on the silver screen and make astute investments, his net worth is only expected to rise.