Bernard Arnault, the titan of luxury and the man behind the LVMH empire, has consistently made headlines for his business acumen and strategic investments. As of 2023, his net worth is estimated to be a staggering $157 billion US dollars, according to Bloomberg. But what factors have contributed to this immense wealth, and how did Arnault climb to such heights in the business world?
LVMH, or Moët Hennessy Louis Vuitton SE, is the world's largest luxury goods conglomerate. Arnault's journey with LVMH began in the 1980s when he acquired a controlling stake in the company. Under his leadership, LVMH expanded its portfolio, acquiring renowned brands across various sectors, from fashion to jewelry to cosmetics.
Strategic Acquisitions & Investments
NEW YORK, NY – JANUARY 9: (L to R) President-elect Donald Trump and French businessman Bernard Arnault, chief executive officer of LVMH, speak to reporters at Trump Tower, January 9, 2017 in New York City. President-elect Donald Trump and his transition team are in the process of filling cabinet and other high level positions for the new administration. (Photo by Drew Angerer/Getty Images)
One of the hallmarks of Arnault's success lies in his ability to identify potential and make strategic acquisitions. Over the years, LVMH has added numerous brands to its roster, including Fendi, Givenchy, and Sephora. These acquisitions not only expanded the company's reach but also diversified its offerings, ensuring resilience in a fluctuating market.
Arnault's leadership style is often described as visionary. He possesses an innate ability to foresee market trends and adapt accordingly. This foresight has allowed LVMH to stay ahead of the curve, continually innovating and setting industry standards. His commitment to excellence and innovation has undeniably played a significant role in amassing his fortune.
Like any business magnate, Arnault's journey hasn't been without challenges. He has faced market downturns, competition, and controversies. However, his ability to navigate these challenges, turning potential setbacks into opportunities, showcases his business prowess.
Philanthropy & Beyond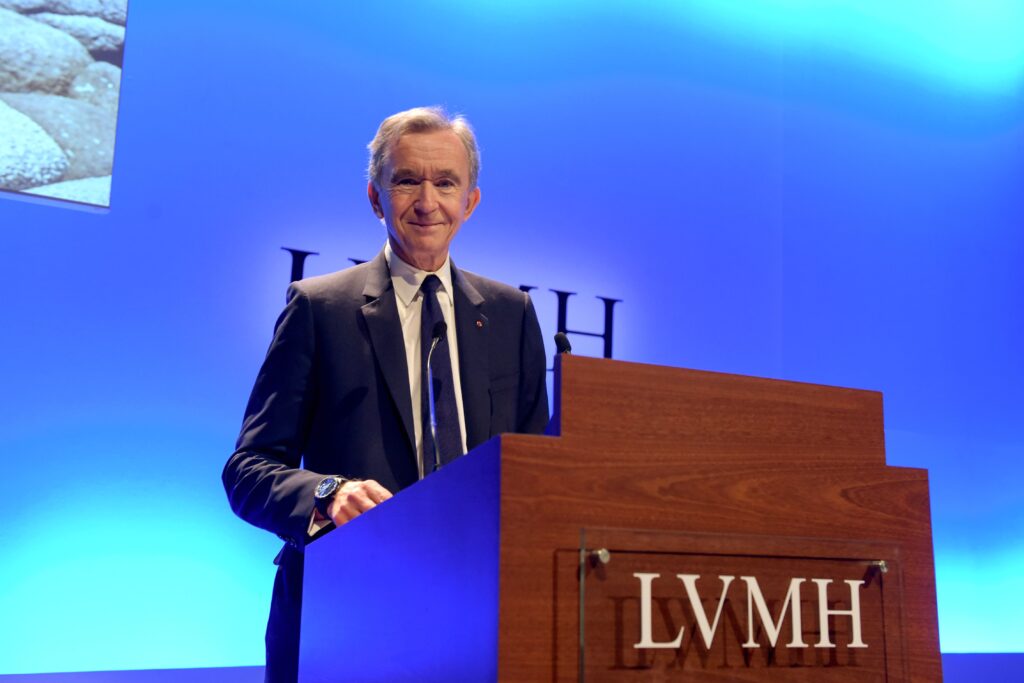 French luxury group LVMH Chairman and Chief Executive Officer Bernard Arnault presents the group's annual results for 2018 at the LVMH headquarters in Paris, on January 29, 2019. (Photo by ERIC PIERMONT / AFP) (Photo credit should read ERIC PIERMONT/AFP via Getty Images)
Beyond his business ventures, Arnault is also known for his philanthropic efforts. He has donated millions to various causes, from arts and culture to education and healthcare. His commitment to giving back to society further cements his legacy, not just as a business mogul but as a global citizen.
As the world continues to evolve, so does the luxury market. With emerging technologies and changing consumer preferences, the future holds new challenges and opportunities. However, with Arnault at the helm of LVMH, the conglomerate is poised to continue its dominance in the luxury sector.
In conclusion, Bernard Arnault's net worth of $157 billion US dollars in 2023 is a testament to his unparalleled business acumen, strategic vision, and relentless pursuit of excellence. As the head of LVMH, he has transformed the luxury market, setting standards and trends for others to follow. His journey, marked by successes, challenges, and philanthropic efforts, serves as an inspiration for aspiring entrepreneurs worldwide.